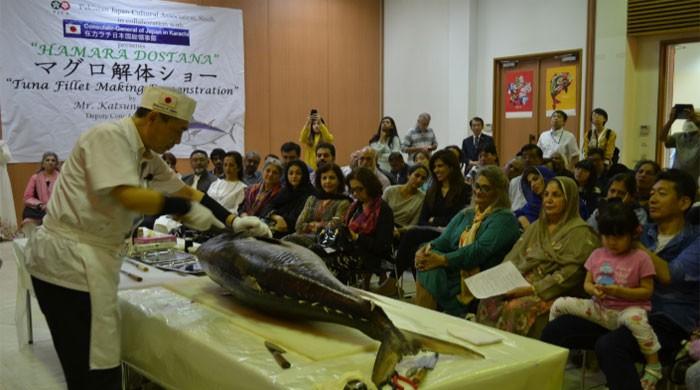 KARACHI: The Consulate General of Japan in Karachi and the Pakistan Japan Culture Association (PJCA) on Sunday organized a 'Tuna Flat Making Demonstration' at the Information and Culture Center of Japan under the theme 'Our Friendly'.
Deputy Consul General, Katsunori Ashida, who specializes in making sushi himself, presented his Japanese culinary skills with a step-by-step description of cutting and preparing tuna blocks for sushi and sushi.
Only 150 years ago in Japan, it became common to eat fish that could be considered raw.
Previously, fish was occasionally eaten uncooked, but was treated with salt and / or vinegar to prevent spoilage through bacterial action. With the availability of soy sauce in the mid-sixteenth century, some people would cut raw fish, cut it into chutneys and eat it, but the practice only spread to the general population in the mid-19th century. And, in fact, raw fish food has become widespread since World War II, thanks to advances in electric refrigeration, trucking and urban sanitation, including garbage removal.
Sashimi and sushi are great ways to serve raw fish. The word "sashimi" is used for any chopped food, including vegetables and tofu. The food is cut into cutting-sized pieces, either with or against the grain, always with the aim of getting the best taste. Sashimi is a food made with a knife.
Sushi is now popular all over the world. The hand-molded sushi consists of two parts – a simple handle for rice cooked with vinegar, and a topping of raw or cooked seafood. Years ago, sushi was developed as a food that was treated to keep it fresh, but today the handmade version is rice with some toppings. Vinegar is a preservative and helps prevent ingredients from spoiling.
Ashida appreciated the fact that Japanese cuisine is slowly emerging in Pakistan and hoped that the locals would get a chance to enjoy one of the world's most famous dishes through the demonstration.