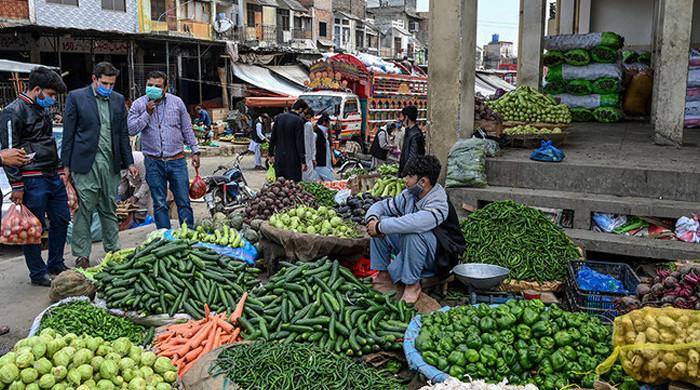 ISLAMABAD: Pakistan Bureau of Statistics (PBS) on Friday said that weekly inflation in the country has increased by 0.50% as compared to last week.
The Commonwealth Consumer Group's weekly inflation-sensitive Sensitive Price Index (SPI) which ended on May 6, PBS said in a report.
According to PBS, the SPI recorded 149.01 points for the week under review, compared to 148.27 points last week.
Compared to the same week last year, the week under review saw a 17.05% increase in the SPI for the combined consumption group.
For the lowest consumption group, the sensitive SPI rose 0.37 per cent to Rs 17,732 from 159.19 points last week to 159.78 points.
During the week, prices of 07 items declined, 18 items increased while 26 items remained stable.
The items that saw a decline in average prices included eggs, LPG cylinders, onions, potatoes, lentils, lentils and garlic.
Average prices of chicken, banana, wheat flour, mustard oil, beef, jaggery, sugar, mutton, bread, yogurt, toilet soap, tomatoes, peanuts, milk (fresh) were recorded. , Mash lentils are included. , Milk (powder) and vegetable ghee (tons).
Items that saw no change in prices during the week included rice (basmati), rice (rice 6/9), cooking oil (loose), vegetable ghee (loose), salt, pepper, tea (packet), cooked Wind beef, cooked lentils, tea (ready), cigarettes, long cloth, lawn, georgette, gents sandals, gents slippers, ladies sandals, electric charges, gas charges, wood, energy saver, washing soap, matchbox , Petrol, diesel, and telephone call charges