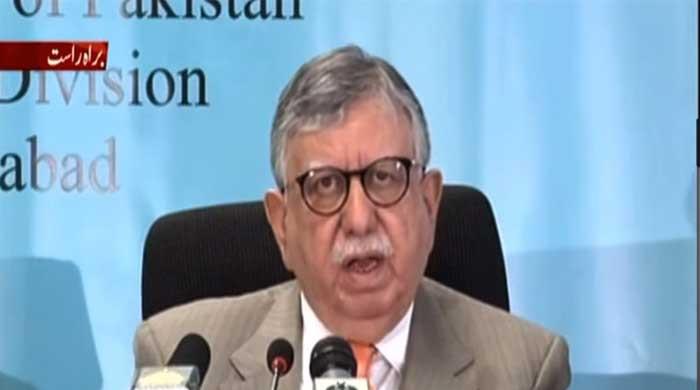 ISLAMABAD: Finance Minister Shaukat Tareen while launching Pakistan Economic Survey 2020-21 said that the country is moving towards development.
At the beginning of his press briefing, the Finance Minister lauded the steps taken by Prime Minister Imran Khan to help businesses in Pakistan.
He said that many people lost their jobs due to epidemic diseases in Pakistan, however, due to the Prime Minister's visionary policy of not imposing a complete lockdown across the country, millions of unemployed people were re-employed. Kept
"The economy is recovering," he said.
He said the government expects the economy to grow at 2.1 percent this year and the IMF, World Bank has issued a lower estimate.
However, he said the government's impressive decisions have boosted the economy by 4.4 per cent, including encouraging manufacturing, subsidizing electricity and providing assistance to the agriculture sector.
Large-scale manufacturing grew by about 99 percent, he said.
Tarin talks of 'record-breaking' remittances.
Tareen said Pakistan's remittances had broken records, adding that they had crossed the 26 26 billion mark. He said that recently food imports, especially in the form of wheat and sugar, have been increasing as Pakistan's economy is growing at the same time.
The Finance Minister said that this shows that Pakistanis abroad have confidence in Prime Minister Imran Khan.
"We were a net exporter of food but now we have become a net importer," he said. "Our exports have increased, but our remittances have multiplied," he added.
The finance minister criticized the government for increasing loans. He said that it was inevitable that the debt deficit should increase due to the country's fiscal deficit.
He said that since 2020-21, the total debt has increased by only Rs 1.7 trillion.
"I'm not saying it's commendable that our debt is growing," he said. "I'm not saying that. But you can see the stability. [in the economy] Return slowly, "he added.
He said that the number of mobile phone and broadband subscribers in Pakistan has increased tremendously, adding that this shows that the market penetration of these services has increased.
Tareen says the IT industry will grow 100 percent
Talking about the IT industry, Tareen said that they have recorded a growth of 40 per cent but by the next budget, they intend to grow it to 100 per cent.
"India made ڈالر 1 billion through IT exports in 2010. Today they are making 100 100 billion through them. If they can grow 100 times, can we grow our IT industry 40 or 50 times? " He asked.
Talking about the energy challenges, Tarin said that Pakistan's economy is burdened by the huge potential in the power sector, adding that it was a huge challenge and a black hole for Pakistan.
"As a result, we have to continue to pay for capacity," he said, adding that if Pakistan continues to grow at a rate of 4.5 or 6 per cent over the next two years, What's more, it's not possible for the country to use this potential.
Tareen said the government would not resort to repeated tariff hikes, saying it would have a major impact on inflation. He said that indirectly the poor would also bear the burden of inflation.