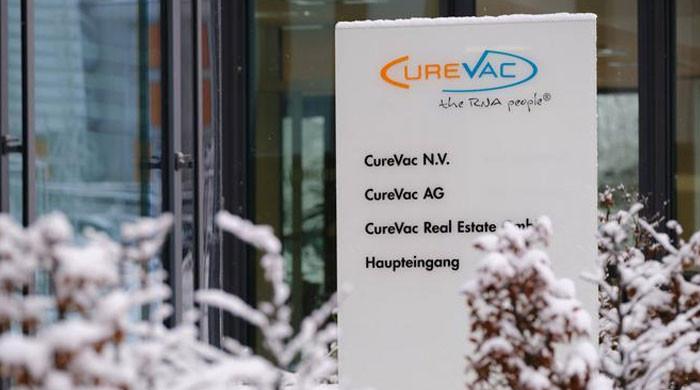 FRANKFURT: Germany's Keurweek said on Wednesday that final test results showed that its coronavirus vaccine efficacy rate was only 48%, compared to those developed by mRNA rivals Biotech / Pfizer and Modern. Very little
Results were expected after poor provisional figures were released earlier this month.
The company partly blamed "unprecedented contexts of stress" among trial volunteers, as well as different reactions across age groups.
The covid vaccines developed by German biotech in collaboration with the American giant Pfizer and the American firm Moderna – based on the same novel Messenger RNA technology – were first approved in epidemics after showing approximately 95% efficacy. ۔
Their trials only met the real strain of the virus. But recent studies show that both vaccines provide stronger protection against newer, more contagious variants.
CureWeek said its job, called CVnCoV, performed slightly better among people between the ages of 18 and 60, with a efficiency of 53 percent.
In the same 18-60 age group, the vaccine provides 100% protection against hospitalization and death.
In a statement, Chief Executive Officer Franz Werner Haas said "CVnCoV" demonstrates a strong public health value for people between the ages of 18 and 60. There will be important contributions to help handle this type of spread.
– No safety concerns –
About 40,000 people from 10 countries in Europe and Latin America took part in the 2b / 3 trial of the final phase of CureWax. Of these, 228 contracted the corona virus.
Cureweek said in May that independent analysts had found "no safety concerns" with their two-dose vaccine.
The Tubingen-based company has shared its data with the European Medicines Agency (EMA), which will now decide whether the vaccine is good enough for green lit.
Cureweek said it would provide more details at a press conference on Thursday.
Its shares fell nearly 10 percent in after-hours trading.
The European Union has received 405 million doses of the CureVac vaccine if it receives formal approval.
Despite lagging behind in the vaccine race, CureWeek believes its MRNA has advantages over competitors.
Unlike first-generation Pfizer and modern vaccines, CureVax products can be stored at standard refrigerator temperatures that require extremely cold freezers.
The Cure Vaccine vaccine requires a reduced dose of only 12 micrograms, while Biotech allows 30 micrograms and modern, 100, faster and cheaper mass production.
These factors could potentially lead to a cure in poor or warm countries.
Second generation vaccine in development –
Scientists say the weakest results could be a low-dose diet, or even a synthetic wax synthesis, which uses an unmodified form of messenger RNA unlike its competitors.
The company is already working on a second-generation covid vaccine for which it has partnered with pharma company GSK.
Preliminary results on mice have been promising, he said. Clinical testing on humans is set to begin in the third quarter of 2021.
CureWeek was founded in 2000 by MNRA pioneer Ingmar Hoover and is backed by German billionaire Dietmar Hope, behind the software Behemoth SAP.
The German government contributed 23% to Cureweek last year for 300 million euros.
The move came as media reports said President Donald Trump had requested special US access to any cure vaccine at the time, a claim strongly rejected by both sides.