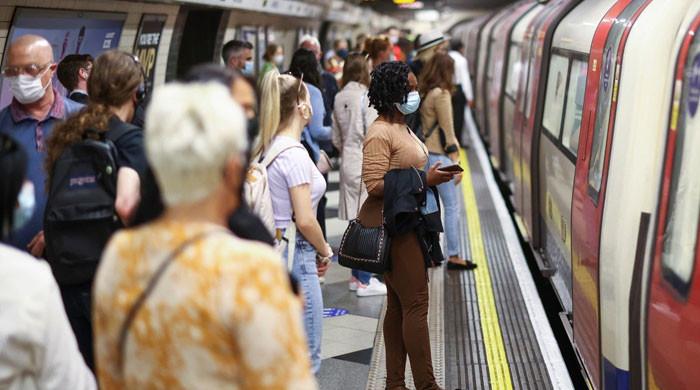 PARIS: France and Greece have joined the ranks of countries that are re-imposing stringent Covid 19 sanctions to stem the rise of delta-variant infections that threaten the global fight against epidemics.
The virus has killed more than 4 million people in China since it first appeared in late 2019, and efforts to stem its spread are changing as the Delta, which previously Was seen in India.
Vaccines are considered the best way to allow economies to reopen while keeping the public safe. But the complex rollout of jobs چاہ whether a shortage of supplies, a reluctance to vaccine or a slow government response خط threatens global efforts to prevent the epidemic.
European governments are turning to more repressive measures to get their populations to sign up for jobs.
The cautious attitude in the European Union is the opposite in London, where the government confirmed plans to lift most sanctions in England by July 19 – the day Prime Minister Boris Johnson called it "Independence Day".
Scotland, Wales and Northern Ireland have developed their own Quid Response Policies.
Although some scientists are concerned that eliminating measures such as wearing masks and social distance is a problem, Health Secretary Sajid Javed said the link between infection and death was "extremely weak", affecting more than two-thirds of the UK's population. As safe.
According to NHS figures, there are more than 30,000 new infections per day in the UK, with the average death in single digits.
Annoying data –
French President Emmanuel Macron said in a national address that those working with healthcare staff, retirement home workers and other vulnerable people would have to work by September.
He also announced that from August, anyone who wants to go out to eat or drink, go to a shopping center or go to a fair, theater show or cinema screening will have to show proof of vaccination or a negative test.
The prospect of taking a test for every meal or drink has an immediate effect on many unsafe French people.
The doctor's site used to book shots. After Macron's speech, he said that a record 20,000 meetings are being held every minute.
Prime Minister Kariakos Mitsutakis said on Monday that Greece was ordering the mandatory CoV 19 vaccine for all health workers, including those working in retirement homes.
Out of Greece's population of 10.7 million, only 4.3 million have been fully vaccinated.
"The country is not going to close because of the behavior of some people," Mitsutakis said.
And the Spanish tourist destinations of Catalonia and Valencia have also announced new measures.
Announcing the sanctions, Catalonia's Public Health Secretary Joseph Maria Argimon said: "The figures are more than disturbing, they are clearly very, very bad."
– Reward and Culture –
Macron said his government's goal is to recognize the "citizenship" of those who have been vaccinated, while "imposing restrictions on non-vaccines instead of everyone".
About 35.5 million people – more than half of France's population – have received at least one dose of the vaccine, while 27 million have received two.
Highlighting the clear distribution caused by epidemic diseases globally, UN agencies have warned that the epidemic poses a threat to the world's children and is fueling a historic increase in hunger. ۔
The heads of two UN agencies, UNICEF and UNESCO, have warned that schools are closed in 19 countries, affecting 156 million children, a "catastrophe of one generation".
Another UN report on Monday said the number of people starving as a result of the epidemic had risen by 18%.
The World Health Organization (WHO) has sharply criticized the insensitive "greed" of rich countries, leaving large numbers of the world's poor vulnerable.
WHO chief Tedros Adhanom Gabrias said the epidemic would soon end "but for a lack of decisive global leadership".
Tedros said the vaccine nationalism was "prolonging the suffering" and was just "one word that could explain it … it's greed."
– WHO scolds vaccine makers –
Without naming the countries, the WHO blew up those considering the Kovid 19 booster vaccination, while the most vulnerable people in other countries were exposed to the virus.
For example, Israel announced plans to start giving a third shot of the Pfizer / Biotech corona virus vaccine to patients with compromised immune systems.
The UN health agency has reprimanded vaccine makers for preferring booster deals instead of giving first and second shots to unhealthy healthcare workers and the elderly in poor countries. Prefer
"Instead of prioritizing the supply of vaccines to countries with relatively high population coverage, rather than modern and Pfizer, we need them to make every effort to channel CoVAX," he said. "
He was referring to an international program that seeks to provide equal access to food for the most vulnerable.
Two Chinese vaccine makers, Synovik and Synoform, have agreed to launch more than 100 million doses of the covid vaccine immediately.
"Thanks to this agreement … we can move forward immediately to start supplying food to the countries," said Seth Berkeley, who heads the Gavi Alliance.