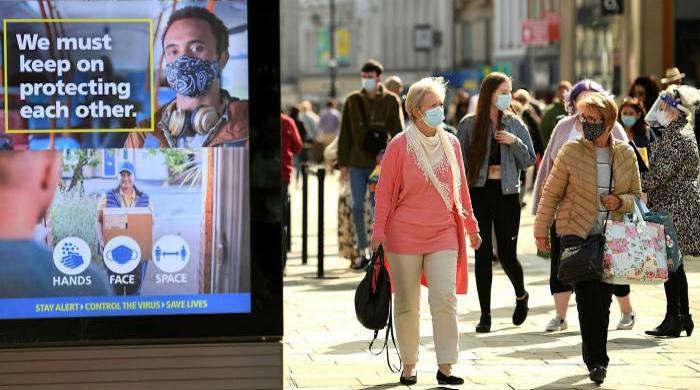 LONDON: The British government on Monday lifted epidemic restrictions on daily life in England, ending all social distances with a move by scientists and opposition parties to make a dangerous leap into the unknown.
From midnight (2300 GMT Sunday), nightclubs were able to reopen and other indoor venues were allowed to run at full capacity, while legal orders to wear masks and work from home were lifted.
Prime Minister Boris Johnson – who is isolating himself after his health minister was affected – has called on the public to be vigilant and to include two-thirds of UK adults who are now fully eligible for any disability. Are vaccinated.
It defended the reopening – which some media called "Independence Day" – despite the widespread misconceptions of scientists, the daily infection rate in the UK is behind Indonesia and Brazil after 50,000 per day.
"If we don't do this now, we will be open in the autumn, winter months, when the virus benefits from the cold weather," the prime minister said in a video message.
The start of the summer school holidays this week presented a "precious fireworks display," he said.
"If we don't do it now, we have to ask ourselves, when are we going to do it?
Jonathan Ashworth, a health spokesman for the opposition Labor Party, said the government was "reckless" and echoed by experts who said the reopening posed a threat to global health.
"We are against opening it without any precaution, especially the attack on the government's plan to mask," Ashworth told BBC television.
Following the success of the vaccination program – which now offers at least one dose per adult in the UK – the government says any risk to hospital care is manageable.
But Neil Ferguson, a professor at Imperial College London, warned that the UK was ready for 100,000 cases a day, as the Delta variant of the Cowboys was out of control.
He told BBC television, "The real question is, can we double it or even more? And that's where the crystal ball begins to fail.
"We can admit 2,000 hospitals a day, 200,000 cases a day, but that's very little certain," he said.
– Shining red –
Even if the UK is experiencing far fewer deaths than in previous waves, such a case would put severe strain on the National Health Service (NHS) and risk planting new varieties of seeds.
Senior Conservative MP Jeremy Hunt, a former secretary of state, said the government should learn from Israel and the Netherlands, which are forced to reverse recent concessions.
"The warning light on the NHS dashboard is not amber, it's red," he told BBC Radio.
Scotland and Wales, whose elected governments have set their own health policy, said they would uphold the face-covering mandate, among other restrictions.
But in England, all restrictions on social mixing were lifted. Sports stadiums, cinemas and theaters can now return to full homes.
Fully vaccinated residents returning from "amber list" destinations in Europe no longer have to live in quarantine – although the government has maintained the need for France since the last-minute policy change.
There is also the need to isolate oneself after close contact, which has forced millions to drop out of work or school in recent weeks, warning the industry of severe economic hardship.
After their contact with Health Secretary Sajid Javed, Johnson and Finance Minister Rishi Sink initially tried to use a government testing pilot scheme that protects participants from being completely isolated.
But after public and political upheaval, Downing Street quickly took a U-turn.
– The stupidity of epidemics –
Johnson, who almost died last year from cowardice, will remain in the Prime Minister's Country Retreat in Checkers, northwest London, until July 26.
"We briefly looked at the idea of ​​participating in a pilot scheme that allows people to test on a daily basis," he said.
"But I think it's far more important that everyone stick to the same principle."
Others urged the government to adhere to a cautious global consensus on tackling epidemics, rather than accepting the free will of Johnson and other conservatives.
Gabriel Scully, a public health expert at the University of Bristol, said the government had stated it would take control of any respiratory illness before the onset of winter.