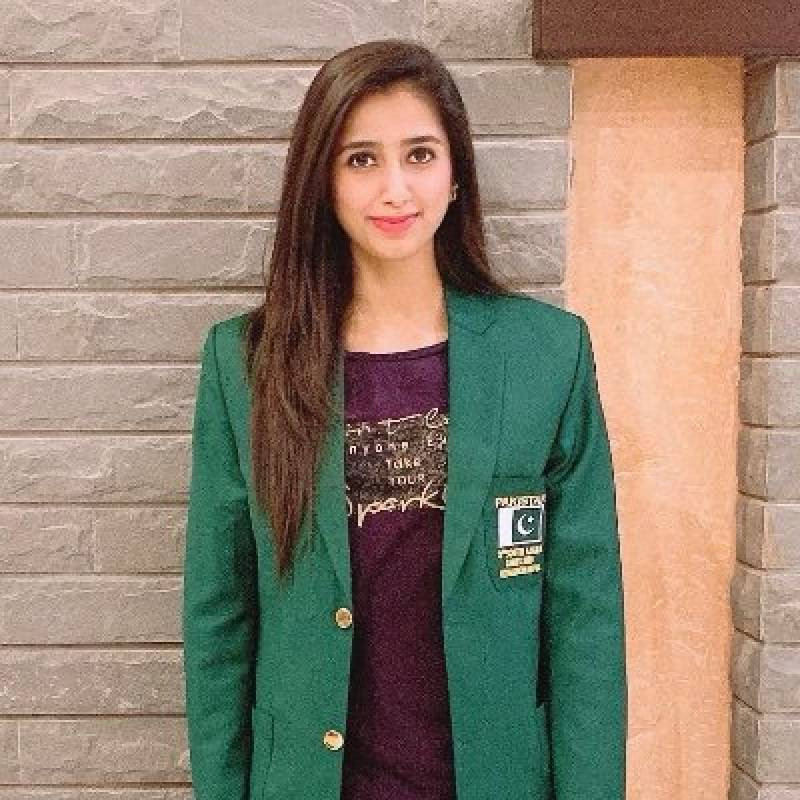 Karachi:

"It is a great honor for us that our daughter will be the flag bearer at the Olympics. I am just finishing work so that I can go home to watch the event," said Muhammad Shehzad, father of Pakistani badminton player Mahur Shehzad, an international powerhouse and badminton player. The former Athlete himself expressed happiness at the start of the 2020 Olympic Games.
She said that she is not only the first Pakistani to play in badminton competitions at the Olympics but she is also performing the honor of planting flags. A dream is a reality. Shehzad told the Express Tribune, adding that getting a place in the Olympics is a great achievement for any Pakistani.
The 24-year-old will fly the Pakistani flag at a ceremony in Tokyo with shooter Muhammad Khalil Akhtar. Pakistan is fielding a contingent of 10 athletes in six sports, and Axis was selected to carry the flag at the prestige ceremony.
"This is a big deal. These athletes are the top athletes in Pakistan, they are among them and out of these athletes they have been selected to be the flag bearers. I cannot be happier than that as a father. Our daughter has been chosen from the best.
Mahur has been representing Pakistan for the past two years. She first made a name for herself at the national level and then sought to compete in international competitions. She was also part of the Pakistan squad for the 2018 Asian Games and the 2019 South Asian Games in Nepal.
As of June, she was ranked 133rd in the world and her father believes her performances have made her proud not only as a father but also as a man and badminton player in Pakistan.
"I am very proud of them, because before that, no men's badminton player qualified for the Olympics," he said. But he did. I can say that a girl beat the boys in it, "said Shehzad, when he was an expert athlete from a very young age and played with his older sister as a child.
The Pakistan Olympic Association (POA) confirmed Mahur's place at the Tokyo Olympics last month and was congratulated on the achievement by POA chief Lt. Gen. (retd) Syed Arif Hassan.
Lt. Gen. (retd) Syed Arif Hassan, President POA, congratulated Mahur Shehzad and commended the POA Secretariat and Wajid Ali of the Pakistan Badminton Federation for their timely and formal implementation. went. The Pakistan Olympic Association has regularly notified the IOC and the BWF of the acceptance of the invitation.
Mahur will play against Japanese shuttler Akane Yamaguchi in her opening match in the women's singles event at the Games on July 24. Yamaguchi is ranked fifth in the world, while Mahur is ranked 133rd.
'Always looking for competition'
As Mehr's first coach, his father, Shehzad, believes winning the first match will be a difficult task. "She is ranked fifth in the world, which is not easy. I remember it was in squash with Jahangir Khan that he lost the trials of the Asian Games and later he went to the event himself and won the title. Sometimes it's a matter of time and luck and maybe the seals can enter the zone when the match is over. But I can say that on paper, the opposition is stronger. However, Mahur will need to learn a lot from the world's greatest athletes when she sees them every day, eating with them, absorbing their routines and interacting with them. They will need to learn a lot from this exhibition.
He reminded that as a father he would make sure that he kept his daughters active and for the sake of axis he felt that their physical fitness would help them in sports.
He reminded that despite being an U-13 player, he and his elder sister are top players in badminton nationally with the U-16 age group.
"She really got involved in badminton, but she was also very good at athletics. We once believed she could be a runner, to the point that she and her sister would force us to stop a short distance from home so that they could both run and compete. She was always looking for a competitor and even beat me in running when she was younger. He competed at the national level and also won a bronze medal in the race. But she likes badminton.
He added that taking an interest in sports since childhood, he enrolled in a badminton club. She practiced primarily with local coaches at DHA Creek Club and Sunset Club.
"It was a matter of putting him in clubs and academies. We have different coaches but as a father and coach I always kept an eye on that progress. We had great coaches to train him. He played sports. I spend at least four to six hours every day for training, two to three in the morning and one in the evening, "said Shehzad. Success is the reason why overseas athletes have better resources to advance in sports.