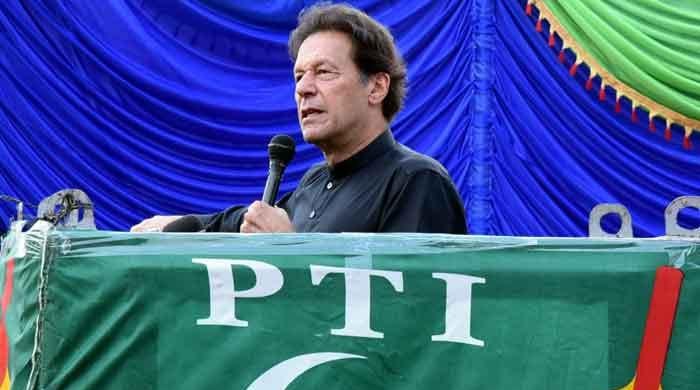 Prime Minister Imran Khan on Friday promised the Kashmiri people that his government would hold a referendum and if they did not want to join Pakistan, they could choose to become an independent state.
Addressing a campaign rally in Tararkhel, he dismissed as baseless a conversation with him about "the desire to transform Azad Jammu and Kashmir into a new province of Pakistan".
"I don't know where this whole conversation came from," he said, dismissing such views.
"But what I want to make clear now is that in 1948, there were two UN Security Council resolutions that gave the Kashmiri people the right to decide their own future. According to UN resolutions. People had to decide whether they wanted to join India or Pakistan.
"I want to make it clear to all of you today. Inshallah, a day will come when all the sacrifices of the Kashmiri people will not be wasted. God will grant you this right. There will be a referendum, Inshallah.
He expressed confidence that the people of that day would choose to live with Pakistan.
The Prime Minister said that after the UN mandate referendum, his government would hold another referendum, where the Kashmiri people would be given the choice to either stay with Pakistan or become an independent state.
Prime Minister Imran Khan said that the struggle for independence of Kashmiris had started a hundred years before the pre-historic partition, when the people had repeatedly stood up against the Dogra government.
The Dogra family was a family of Hindu Rajputs who ruled Jammu and Kashmir from 1846 to 1947.
PML-N only accepts decisions of its umpires
Speaking in the Azad Jammu and Kashmir Legislative Assembly elections on Sunday, the Prime Minister said there was already talk of "rigging".
He said that when he played cricket, it was standard practice for countries to have their own umpires, and for teams that were afraid of losing against a powerful team to lose a match because of another country's umpires. Create the possibility of Affirmative.
"The Noon League, which I really believe has never done an honest job, has already started talking about fraud.
"The government is yours, the staff is yours, the Election Commission is made up of your own people, and we will hold the elections." He asked the party.
Sharing a story with him when he was playing cricket at the Lahore Gymkhana Club, he said that one day he and his friends saw a "bold man" who seemed to be very fond of playing cricket. Was created "visited the club.
"That person was Nawaz Sharif," the prime minister said.
"From now on, whatever he says is true," said Prime Minister Imran Khan, adding that he would support the people who used to play in the club in those days.
The prime minister said Nawaz's cricket was "just as good in his politics".
"But then he became finance minister. When he came to play matches, he would bring his own umpires to the ground: a deputy commissioner, a commissioner. Whenever he was out, he would call him a nun ball." "Since then, the Noon League has fallen into this bad habit," Khan said. They have a good umpiring when they have their own man. "
The government of a neutral umpire but the opposition refused to listen
The Prime Minister said that in the 200-year history of Test cricket, it was Pakistan that brought in neutral umpires and the man who was the captain at the time was "right in front of you all". He said that at a time when West Indies were the strongest team in cricket, when a successful defeat against them was a long order, Pakistan had brought neutral umpires back into the match in 1986.
"And there are neutral umpires all over the world today."
The prime minister said the government had been urging the opposition to work with the government on electoral reforms for the past one year, but "no one ever came".
"We have recommended electronic voting machines. What happens after the election is over, the result comes with the push of a button.
The Prime Minister said, "You don't have to worry about going through the ballot boxes. There is no risk of ballot boxes being stolen or double stamped. This is an amazing result of technology. The result is immediate. Has been found on. "
He said the opposition "refused to listen and is now crying foul."
Poverty reduction plans for AJK
Prime Minister Imran Khan said one could assure that Pakistan would "become a great nation".
He said that on his half-hour ride to the rally site, he was surrounded by great beauty and it made him realize that even with a little effort, Pakistan could reap huge benefits from tourism.
The Prime Minister lamented the impact of the war on terror on Pakistan and said that "the region has suffered the most".
He said that after his government came to power, in 2013 and 2018, according to a UN report, Khyber Pakhtunkhwa recorded a significant reduction in poverty.
The Prime Minister said that KP was the largest spender on human development in the province. In 2013, there was a coalition government and then in 2018, "the province that never votes for any party twice, the PTI won by a two-thirds majority."
"Therefore, my first and foremost effort to reduce poverty in Azad Jammu and Kashmir will be taken forward," he said.
He referred to the Ehsas program, in which, by December, 40 per cent of the disadvantaged will have access to subsidized food.
Referring to the Kameb Pakistan program, he said that one member of each family would get technical education and the family would have health insurance of Rs. 1 million. In addition, an individual will be given an interest-free loan to start a business.
"We have set aside Rs 500 billion for this program," he said.
'What have they done here in five years?'
The Prime Minister asked if in the last 10 years, anyone had fought so hard for Kashmir in international forums. "You can estimate both governments in the last 10 years and only three years that we have been in government."
"Did anyone go to the UN? Did anyone give an interview abroad?"
What to say about all this, Narendra Modi is being invited to weddings instead. He is cursing Pakistan, blinding the Kashmiri people with pellet guns and torturing them. And begging. After asking and pleading, they are also being invited to the wedding, "the Prime Minister said.
Citing a book by Indian author Barkha Dutt, he said it said that Nawaz Sharif had "secret meetings with Modi".
"They held a secret meeting because they were afraid of the Pakistan Army. Then, they go to India but do not meet the Hurriyat leaders for fear of angering Modi.
"These leaders of yours. Ask them. What have they done in the five years they have been in power here?" He said that he kept criticizing PML-N.
He did not even mention the PPP.
The Prime Minister said, "And this Zardari. If he had time to avoid counting his money, he would think of Kashmir."
Prime Minister Imran Khan promised that he would continue to raise his voice for the Kashmiri people. He further said that Pakistan will always be by your side.
The Prime Minister said, "I want to salute Ali Gilani, who is in jail in Occupied Kashmir, and his struggle. And Yasin Malik," the Prime Minister said.
He said that when the earthquake hit Azad Jammu and Kashmir 16 years ago, Yasin Malik and he had visited the affected areas here. "He brought money from Kashmir with him and distributed it among the people here. I will never forget it."
"Be patient, Yasin Malik. Inshallah, good times are good. The whole of Pakistan and Azad Kashmir are with you and I pray for you and the Kashmiri people."
"This is our belief. Kashmir will get this right, it will decide its future," he reiterated as he ended his address.