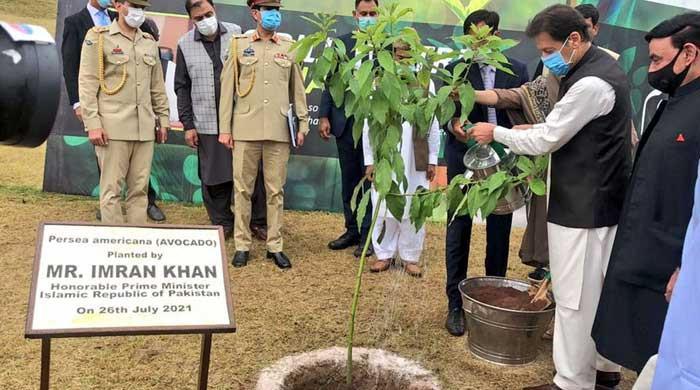 ISLAMABAD: Prime Minister Imran Khan on Monday remarked that Pakistan has now become a leading country in taking steps to reverse carbon emissions.
Launching the monsoon tree planting campaign in Islamabad, the Prime Minister asked Pakistanis to take full part in the tree planting drive to increase the country's forest cover.
In the capital's Fatima Jinnah Park, the prime minister planted an avocado (Persian-American) fruit tree to stop the planting campaign.
"It is unfortunate that our forest cover is much lower than in other regional countries because this issue was ignored in the past," he said.
Prime Minister Imran Khan said that we have to turn Pakistan green to fight global warming and eliminate the effects of pollution.
The Prime Minister said that if every person planted at least one sapling in the next three weeks, it would bring about a great revolution.
The Prime Minister said that he has also directed the Commissioners and Deputy Commissioners to ensure planting of vacant lots in the cities. "Our goal is to leave behind a better Pakistan for future generations," he said.
He said that along with the government's 10 billion tree tsunami project, the planting of one billion trees in Khyber Pakhtunkhwa is widely recognized all over the world.
The Prime Minister said that Pakistan has now been recognized as a leading country which is taking steps to reject carbon emissions.
Two days ago, he planted a sapling at Nathia Gully Natural Recreation to promote planting to protect the natural environment. He appealed to the nation especially the youth to join hands for the tree planting campaign.
Tourism policy
Meanwhile, a meeting has been convened in the Prime Minister's Office by Prime Minister Imran Khan to review the progress on the government's strategy to boost tourism across Pakistan.
The Prime Minister will preside over the meeting, which will also be attended by federal ministers, advisers and special assistants.
They will be given a comprehensive briefing on tourism and the facilities provided to tourists.