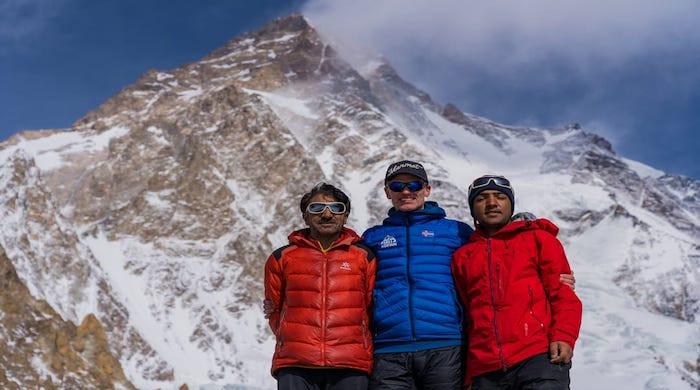 Gilgit-Baltistan Information Minister Fatehullah Khan said that after a long wait, the bodies of Pakistani climber Ali Sadpara, Iceland's John Sunori and Chile's John Pablo Mehr were found on KK2. Geo News on Monday.
Sajid Sadpara, along with Canadian filmmaker Elijah Cycle and Passing Kaji Sherpa, is summoning K2 to search for the bodies of his father and his accomplices Sunori and Mohr. The climbers went missing on February 5 and were pronounced dead a few days later after their bodies were not found and a rescue mission was called.
Sources said that the team reached Camp 4 this morning and flew a drone around the area to search for the bodies.
By drone, the team was able to locate the body above Camp 4 near Botlanik.
A message from Sakli said that Sajid Sadpara had buried the young Pablo and his father's body was lying on the ground.
At 6:59 p.m., the Canadian filmmaker said, "Sajid just buried John Pablo. His father Ali is hardly up. We're going up again tonight."
A minute later, Sackley sent an SOS message for more oxygen because the team was running low on it.
"If anyone can help us get more oxygen, if there's any influence from Pakistan, if people go to base camp, we can use your help. Less is going on," said Canada. He added that the team is currently in Camp 4.
The Minister shared the details of the mission
Earlier, the GB Information Minister told Geo News that the team's first body was found near the dilapidated area of ​​the mountain around 9 a.m. today.
Earlier, John Sunory's body was found under a barrier at 9am. He was dressed in yellow and black. He added that the second body was found at 12 midnight but he could not identify the other two bodies.
The minister said Sunori's body was identified after an army focal person confirmed the color of his clothes.
Army helicopters are on standby for the rescue mission and excavations are underway to recover the bodies, Khan said. He added that the army and the government were vigilant.
Apart from Sajid, Sherpa and Sakli, the team also includes Fazal Ali and Aziz Baig.
Sackley last updated Instagram two days ago, saying he had begun his "final search and lead effort."
Sajid Sadpara will send K2 to the meeting in search of Ali Sadpara's body, make a documentary
Last month, Sajid, the son of famous mountaineer Ali Sadpara, announced that he would once again call K2 to make a documentary about his father and find his body.
"I want to go to K2 to see what happened to my father and John Sunori," Sajid told a news conference, announcing his plans to start climbing the world's second-highest mountain from tomorrow. Huye said.
A documentary on the life of June Sunori and Ali Sadpara is being made. [I hope] Go to K2 to search [the dead body] And make a documentary, "Sajid added, adding that it could take him and his team 40 to 45 days to reach the top.
Sadpara was pronounced dead by his family
Ali Sadpara, John Sanori of Iceland and Pablo Mehr, a young man from Chile, set out on a two-day trip on February 3 after Sadpara's birthday, telling fans and fans to "keep us in their prayers".
He began his efforts for the final summit on early February 5, and hoped that by noon Hercules would be done.
At the time, the mountaineer and his companions were thoroughly searched by the Pakistan Army but the expedition could not be found and for this reason the family of Sadpara declared him dead.
"I will keep my father's mission alive and fulfill his dream," said Sajid Sadpara.