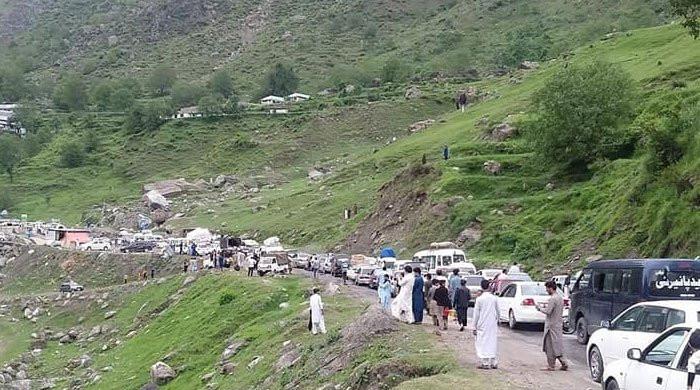 Mansehra: The arrival of tourists in Kagan Valley in Mansehra district of Khyber Pakhtunkhwa has created fuel shortage in the area. Geo News on Monday.
Tourists heading to the area after Eid al-Adha are struggling to find fuel because local petrol pumps are not equipped to meet demand. Long queues of vehicles can be seen at every filling station in the area.
In addition to fuel shortages, the area's roads are also a major obstacle to traffic. Because a record number of people are moving to this area.
District Police Officer (DPO) Asif Bahadur said, "So far, about 2.7 million vehicles carrying tourists have entered the valley and more and more motorcycles are going to this beautiful place."
From the first day of Eid-ul-Adha, tourists started running in the Kagan Valley, still entering.
"We have never seen such a large number of people entering the valley, but we are doing our best to manage the flow of traffic within the available resources," the police officer said.
Tourists from home and abroad visited Babusar Top, Sefal Malik Lake, Llosar and even Dodi Pet Sar.
"The Mansehra-Naran-Jalkhad road, which connects KP to Gilgit-Baltistan, is in dire need of black-topping and potholes," said Muhammad Jabbaran, a Karachi tourist.
He said that unless the carpets on MNJ Road and its arteries, Sefal Malik Lake and other such places leading to strange places were carpeted, the Prime Minister's tourism scene could not be successful.
Hotels and restaurants are full, said Hussain Din, chairperson of the Kagan Valley Hotels Association.
"Hotels and tourists have strictly followed the standard coronavirus operating procedures set by the government for the tourism industry," he added.