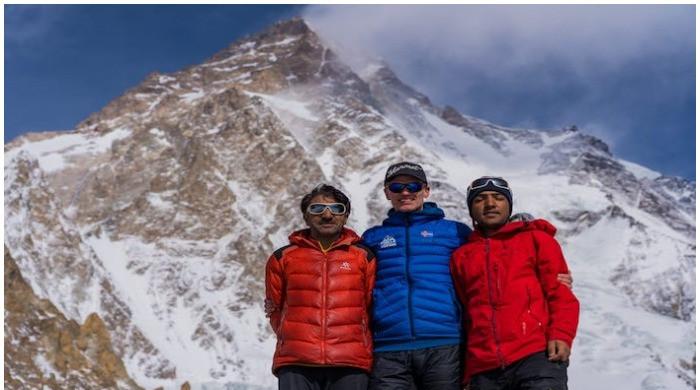 Skardu: Pakistani climber Sajid Ali Sadpara on Wednesday claimed to have recovered the body of his father Ali Sadpara, another famous climber of the country.
Ali Sadpara was pronounced dead on February 5 after he went missing along with two of his colleagues during the winter session of the powerful K2.
Last month, Sajid planned to reunite K2 to make a documentary about his father's life as a climber and to search for the bodies of fallen climbers.
"I want to go to K2 to find out what happened to my father and John Sunori," Sajid told a news conference.
Following the announcement, Sajid co-hosted the July 2 K2 conference with Nepali-Canadian filmmaker Ilya Saikli and Passing Kaji Sherpa.
The news of Sajid's second summit was announced by Alpine Adventure Guide through its official Twitter account.
The post said, "K2 is good news for the entire nation, especially for those who love the hill, another milestone is that Sajid Ali Sadpara called K2 for the second time," the post said.
In addition, Sajid claimed in a tweet from his official account that he had recovered the body of the nation's hero. According to the post, Sajid's last place was in Camp 4.
"I found the body of my hero in C-4. An Argentine climber, C-4, has been instrumental in lifting the body above obstacles. I recited the Fatiha on behalf of the entire nation and recited the Holy Qur'an. Safe place with Pakistani flag. Sources claim that Sajid and others called K2 without oxygen, "Sajid said in his tweet.
In addition, Team Ali Sadpara tweeted that Sajid had recovered his father's body himself and brought it down to Camp 4.
"Camp-4K. 2 Sajid lonely removed the body from the top of the bottle tube, delivered the C-4 and stored the body there. He has offered the Fatiha and recitation of the Holy Quran according to Islamic rituals and according to the wishes of his mother.
Sources claim that Sajid and his team have summoned K2 without oxygen.
Earlier on Monday, during his stay at Camp 4, Sackley sent a message to the SOS asking for oxygen, saying the team was getting out of it.
The bodies saw obstacles
Gilgit-Baltistan Information Minister Fatehullah Khan said in a statement issued on Monday that the bodies of Ali Sadpara and his accomplices John Sunori of Iceland and John Pablo Moher of John Chile were located at the K2 barrier.
The dead climbers were identified by the color of their clothes, officials said.
Sadpara, Sunori and Mehr left for their journey on February 3 on a scale of 2. He had started his efforts for the final summit on February 5 but disappeared on the same day.
After the suspension of contact with the climbers, a complete search was carried out by the Pakistan Army. However, the climbers were pronounced dead because the bodies could not be recovered.