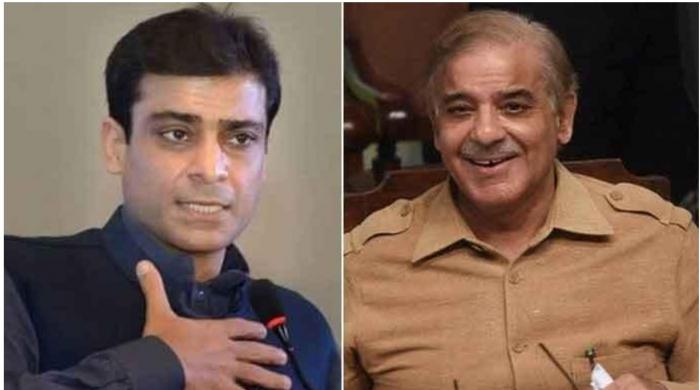 LAHORE: A local court in Lahore has extended the interim bail of PML-N National Assembly opposition leader Shahbaz Sharif and his son Hamza Shahbaz till August 16 in a case of alleged involvement in the Ramzan Sugar Mills scandal.
At the start of the hearing, the Federal Investigation Agency (FIA) submitted its response to the two leaders' bail application.
The FIA ​​claimed in its reply that Shahbaz and Hamza were not cooperating in the investigation.
If the court continues to extend the interim bail, the investigation will not be completed, read the answer.
FIA officials said that Shahbaz and Hamza allegedly embezzled Rs 2.5 billion through money laundering through fake bank accounts.
"The investigation revealed that the details of the account holders who were low-income employees of Ramzan Sugar Mills did not match their assets," officials said.
Keeping in mind that they feared that Hamza and Shahbaz might flee the country, FIA officials asked the court to dismiss the bail application.
FIA officials said the release of both leaders on bail could endanger witnesses.
During the hearing, Shahbaz's lawyer asked the court to adjourn the hearing until after August 13, as Shahbaz has to attend National Assembly sessions.
Separately, Hamza's lawyer told the court that the Punjab Assembly sessions would continue till the said date.
The court granted the lawyers' pleas and adjourned the hearing till August 16 and extended the bail pleas till the same date.
Guarantees were given.
Interim bail granted to PML-N leaders in sugar scandal on June 21, Lahore wing of FIA summons Shahbaz for ongoing probe into scandal ۔
To avoid arrest by the FIA, the PML-N president and his son went to court seeking bail, claiming that the FIA ​​had registered a baseless case on money laundering charges.
The National Accountability Bureau (NAB) has already filed a reference against two PML-N leaders on money laundering charges.