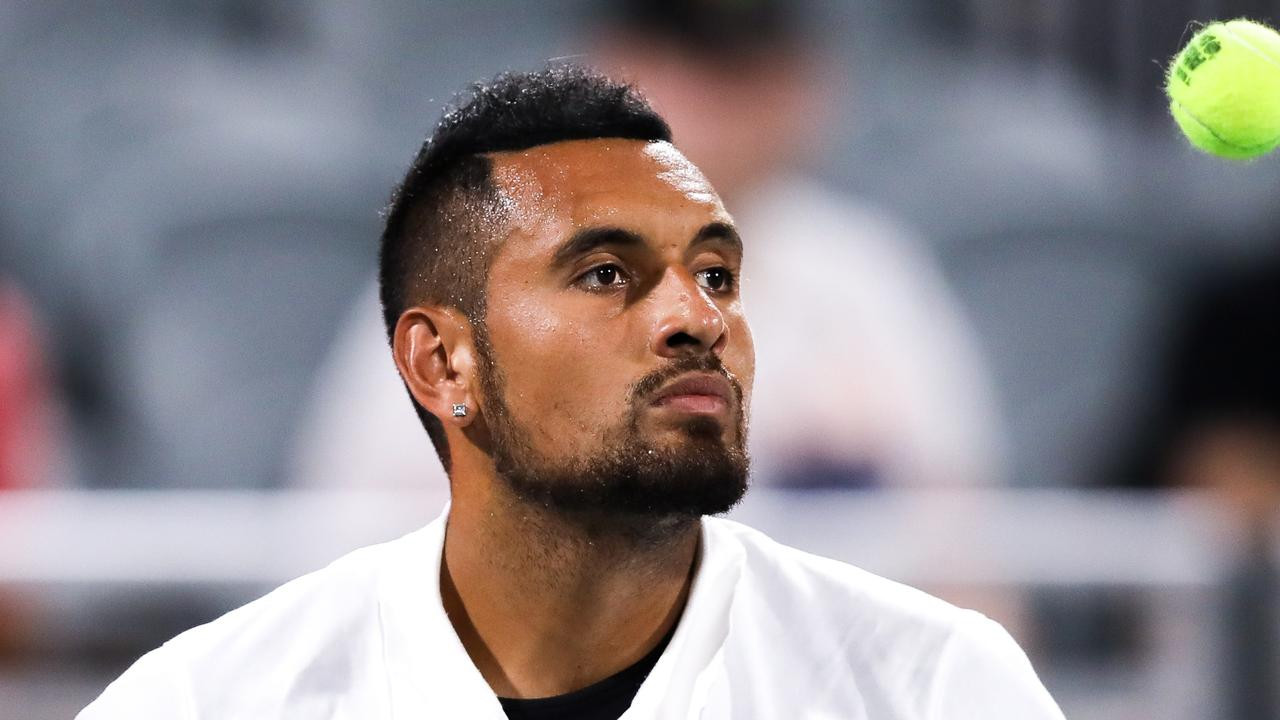 Washington:

Nick Kyrgios says tennis took him to a dark place long before Nomi Osaka raised mental health issues and the Australian star looks at his ATP future with growing uncertainty.
Kyrgios, who has played only five events since March 2020 due to the Kovid 19 epidemic, spoke at the City Open in Washington, where he won six recent career titles in 2019.
"I am a part-time player," he said. "It simply came to our notice then.
"I don't remember it much anymore. I feel like, like every time I'm in a tournament, it might be my last time here.
"I feel weird. I feel weird about my career right now. But I like to come back. I like to see all my teammates."
Kyrgios said tennis was beginning to adopt unique personalities, but the Australian said he had taken the strength to cope with the pressure.
"I'm just flexible," he said. "If someone isn't as flexible as I am mentally, I've got as much hatred, I've got the amount of racism, I've got the amount of bullying from the tour, from the fans, from everything, I could have …
"I fell in places where people like Naomi Osaka are now talking about mental illness, which I was going through, in my personal opinion, 20 times worse.
"I'm just saying that this game could have taken me to a dark place, which he did a little bit, how hard it was mentally for the 18-year-old, being one of Australia's most famous players, Impressed with the media. It's not that easy.
"I'm 26 now, I'm old enough. I know it's all bullshit."
While praising Osaka's courage in overcoming mental health issues at the French Open and Wimbledon, Kyrgios wished his younger days had seen such help.
"All they get is good press. They don't really get hate messages," Kyrgios said. "They don't really charge ridiculous historical fines for hitting balls outside the stadium or violating the code.
"Instead of casting out and crucifying almost anyone, you say, well, this guy is different."
Kyrgios says he has set an example and is popular with fans.
"I know I'm great for the game. You need people like that," Kyrgios said.
"Tennis has struggled in the past to embrace people who do it differently. They're starting to get warmer with it. I've been an example of tennis embracing personalities and making everyone happy. Need to feel there.
"Looks like I've been very popular in the game on my own."
Kyrgios praised Caspar Road, who has won three European clay titles in the past three weeks, even after tweeting "stealing points" in the Norwegian rankings.
"Look at Casper. Winning three back-to-back tournaments is not easy," Kyrgios said. "He's got amazing discipline, obviously he's a great player. I've never cut his tennis.
Kyrgyz defeated Russia's Daniel Medvedev in the 2019 Washington final, but the 2020 event ended in a draw.
World No. 77 Kyrgyzstan partially withdrew from the Tokyo Olympics due to a spectator ban, but this week his fan base will be 100 percent.
"You can feel the energy around the courts," Kyrgios said. "It's definitely my favorite part of coming back.
"I feel like I'm not playing for myself anymore. I feel like I'm playing for a lot of people who might be related to me."
Kyrgios was knocked out of the third round at the Australian Open and Wimbledon and lost his second match last week in Atlanta.
"I don't value any tournament," he said. "I don't feel like I'm trying to climb the rankings or win a tournament. I'm doing it my way, I'm taking it day by day.
"It's very complicated if I think too far ahead."