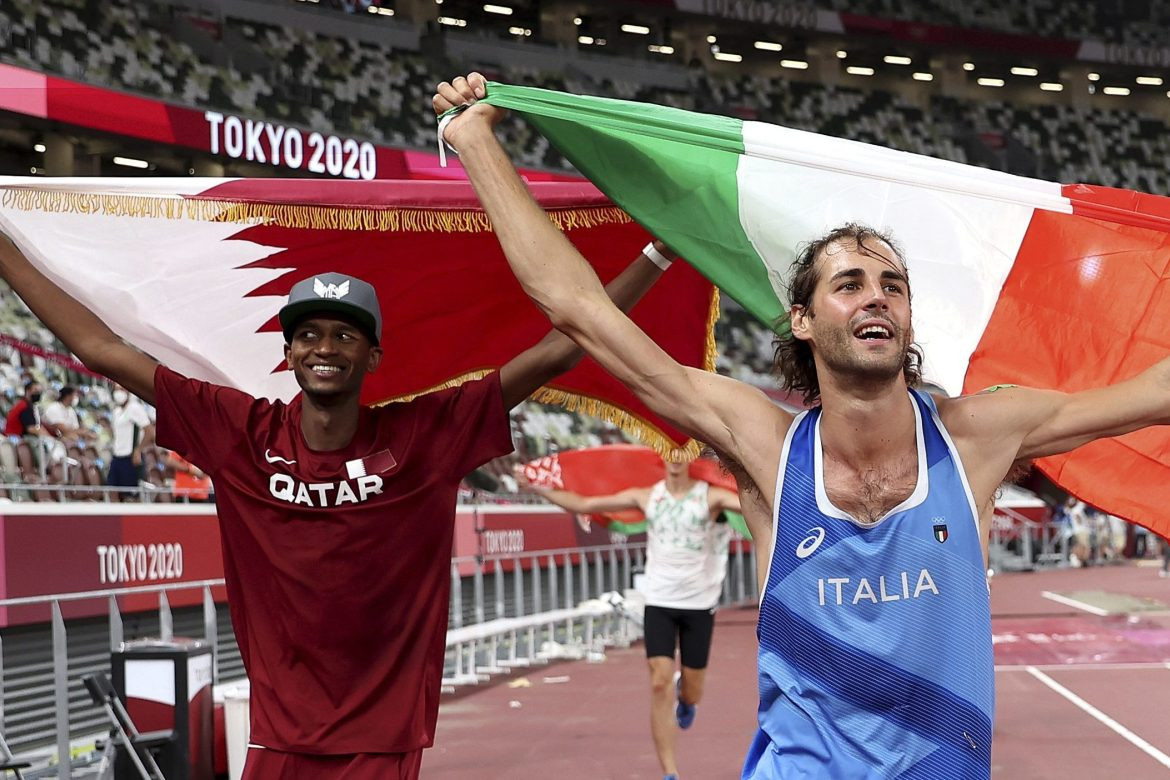 Tokyo:

Qatar's Mutaz Issa Barsham on Sunday added Olympic gold to his list of honors in the men's high jump in Tokyo – and persuaded organizers to share it with his friend and rival, Italy's Gyan Marco Tambari.
Barsham, 30, and Tambury, 29, finished with a jump of 2.37 meters and made no unsuccessful attempts until they cleared 2.39.
After three setbacks at this height, an Olympic official jumped first to decide the winner.
"Do we have two golds?" Barsham asked him.
The official nodded and the two players clasped their hands in joy.
"I look at him, he looks at me, and we know him. We only look at each other and we know, this is it, this is done. There is no need," said Bersham.
"He's one of my best friends, not just on the track, but off the track. We work together. It's a dream come true. It's the true spirit, the sportsman's spirit, and we have this message here. Delivering. "
It was a win-win situation for the Italian, who broke his ankle before the 2016 Rio Games.
"I just wanted to come back after my injuries, but now that I have this gold, it's incredible," he said. "I dreamed of it many times.
"I was told before Rio in 2016 that there was a danger that I would not be able to compete anymore. It's been a long journey."
Belarus' Maxim Nedasiko, who also finished 2.37, won the bronze medal in the countdown.
Bersham won a bronze medal, later converted to silver, won another silver at the London 2012 Games four years later in Rio and then won two consecutive world titles in 2017 and 2019.
His personal height of 2.43 meters is the second highest jump ever, behind Cuba's Javier Sotomayor's world record of 2.45 in 1993.
In a high-profile event, South Korea's Wu Sang-hyuk and cricketer Mitchell's younger brother, Australian Brendon Starc, both beat him by 2.35 to finish fourth and fifth respectively.