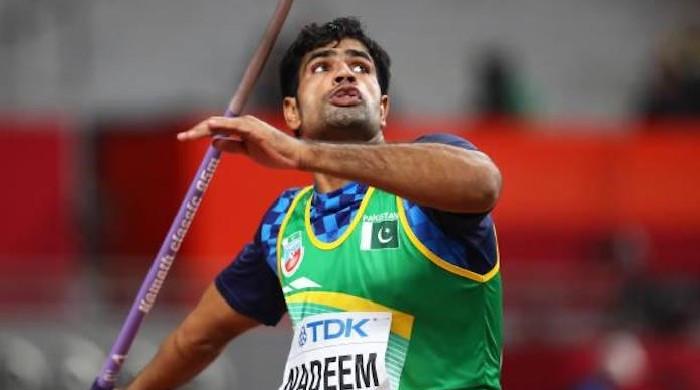 KARACHI: Pakistani athlete Arshad Nadeem, the country's last surviving athlete at the Tokyo Olympics, will be in action for the group stage of the Julian Throw competition on Wednesday.
Arshad Nadeem directly qualified for the Olympic Games when he made a throw of 86.29 meters at the South Asian Games in Kathmandu. Its current world ranking is 23. However, his seasonal best, which is also his personal best – a throw of 86.38 – is one of the top ten throws of the season.
Throw, who won his medal in Iran in April this year, ranks him seventh among the best throwers of the season.
She has been placed in Group B for the Julian Throw competition and the event will start at 6:35 am Pakistan time. Nadeem has been placed with world number three Chou Soon Cheng and world number five Anderson Peters.
A total of 32 competitions are divided into two groups of 16. Depending on the qualification criteria, players with a throw of at least 83.50 meters or at least 12 best performers reach the final.
After taking a look at his performance and progress over the years, one can confidently say that Arshad is one of the favorite people to qualify for the finals and if he has a day, it will be an extraordinary one for the country. Can get glory
Arshad is one of the best spear throwers in South Asia. He first made headlines in 2016 when he won a bronze medal at the South Asian Games in Guwahati, throwing a 78.33m javelin, his first national record since then.
He also won a bronze medal for Pakistan at the 2018 Asian Games in Jakarta, when he threw a birch for 80.75m, which is another new national record for him.
At the World Championships in Doha, Arshad improved further and with a distance of 81.62 meters, he scored 81.52 before improving further in the 2019 National Games. In the 2019 South Asian Games, he threw 86.29 meters, which also gave him a ticket to Tokyo.
In an interview before departure, Arshad set his sights on achieving the 90-meter mark, a feat that could put him on the podium. At the 2016 Rio Olympics, Germany's Thomas Rohler won the gold medal with a throw of 90.30 meters.