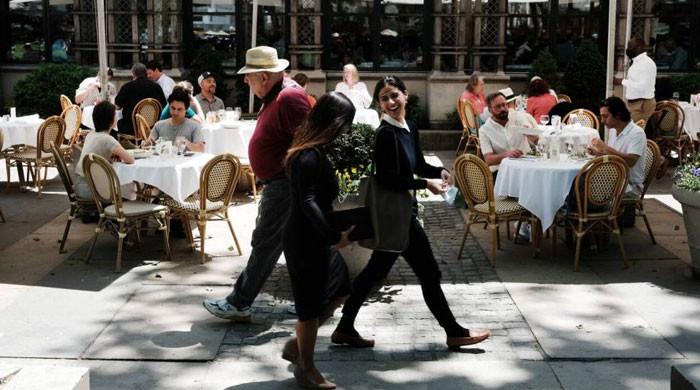 NEW YORK: New York will become the first major city in the United States to require vaccination evidence for people attending indoor venues such as restaurants, gyms and shows under a plan announced Tuesday by Mayor Bill de Blasio.
The announcement comes as public institutions and private businesses in the United States are increasing the need for vaccines as the country fights a highly contagious delta type.
"If you've been vaccinated … you have the key, you can open the door," de Blasio told a news conference.
With cases of the corona virus once again on the rise in the United States, de Blasio said the policy, dubbed the "Key of the NYC," will be launched on August 16, followed by a one-month transition period before implementation. Will be.
There will be no special pass, but residents will only have to show proof of vaccination, such as through their vaccine card or an existing state app.
"It's time for people to really consider vaccination necessary to live a good, complete and healthy life," de Blasio said.
In recent weeks, the mayor, and New York State Governor Andrew Cuomo, have issued regulations tightening vaccination laws as the United States struggles to suppress the shape of the delta.
New York State will require all "public" health care workers to be vaccinated from September, and all thousands of state employees will have to show evidence of vaccination or face weekly tests.
In New York City, a city of more than eight million people, 71.8 percent of adults have received at least one dose of the vaccine, according to official figures.
– Vaccination stalls –
The move comes as the United States struggles to increase vaccination rates, which have been stagnant for months despite having the largest supply to any country in the United States.
Many unions and critics of the mandate have spoken out against the required vaccination, citing personal freedom arguments.
But the New York City Hospitality Alliance welcomed De Blasio's announcement Tuesday.
Although the mandate will pose "economic and operational challenges" for restaurants, it could "help ensure that New York City does not return to sanctions and such orders," executive director Andrew Reggie said in a statement. "It simply came to our notice then.
The United States is being affected by the hyper-contagious delta variant, which has added to the daily routine of the nation.
Across the country, an average of more than 6,200 cohort admissions are seen daily in hospitals, while more than 300 people die every day.
Disney and Walmart have launched a movement for a vaccine mandate in the private sector with the introduction of new requirements and incentives for employees.
Last week, President Joe Biden's administration announced that following similar measures in California and New York, federal workers would need to be vaccinated or tested regularly.
U.S. health officials last week reinstated instructions for fully vaccinated people to wear masks indoors in high-risk areas.