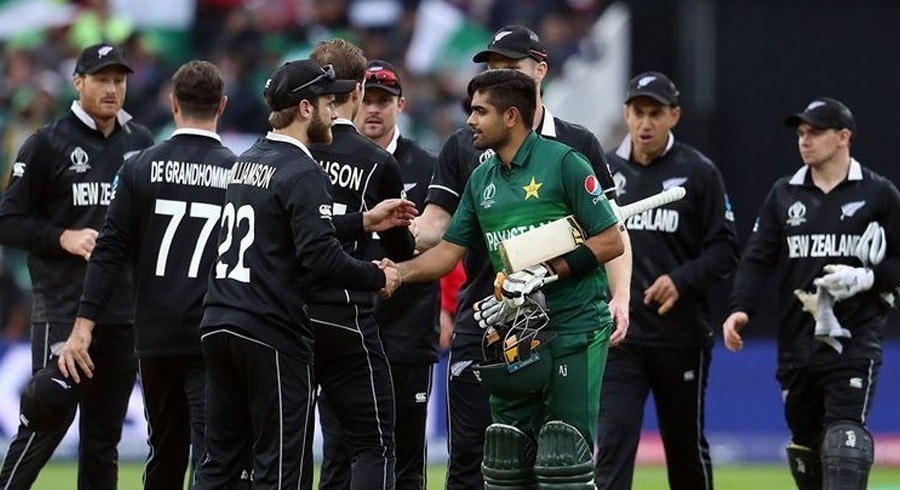 The winners of the ICC World Test Championship will return to Pakistan to play Test matches next year.
The Pakistan Cricket Board today announced that New Zealand will play three ICC Men's Cricket World Cup Super League ODIs and five Twenty20 Internationals on their first tour of Pakistan in 18 years.
Rawalpindi's Pindi Cricket Stadium will host the ODIs on September 17, 19 and 21, while Lahore's famous Gaddafi Stadium will play five T20 matches from September 25 to October 3.
Rawalpindi ODI will be counted in the ICC Men's Cricket World Cup 2023 qualifiers, while Lahore will be ranked third in the ICCT20I team rankings.
The winners of the ICC World Test Championship will return to Pakistan to play Test matches next year.
For local cricket fans and supporters, 2021-22 will be the bumper season. New Zealand will be the first team to visit Pakistan. Following the tour of New Zealand, England's men's and women's teams will play a whiteball match in Pakistan before the West Indies are expected to arrive in Karachi in December for three ODIs and three T20s. Australia will pay a full tour in February / March 2022.
PCB chief executive Wasim Khan said: "The series against a top-ranked team like New Zealand will be a great start to the home season of red and white ball cricket. Third, will receive tremendous attention and interest from local fans, and will strengthen Pakistan's position as a safe and secure country.
"I am delighted that New Zealand Cricket has accepted our offer to play two additional Twenty20 Internationals. It will not only provide extra games to both the countries as part of the preparations for the ICC Men's T20 World Cup, but also allow the New Zealand players to spend extra days in Pakistan, get to know our culture and enjoy our hospitality. Will also allow to be enjoyed.
"With the resumption of the tour to Pakistan in 2019, I am confident and hopeful that the 2021-22 season, which begins with the series against New Zealand, will help re-energize our talented youngsters. Will attract new fans to the game "which is one of the most enthusiastic followers in the country.
NZC Chief Executive David White: "We look forward to returning to Pakistan to begin our international season.
"New Zealand was the first country outside India to visit Pakistan and we have a close relationship with the PCB.
It is good that international cricket is being played again in the country after such a difficult time for Pakistan.
In the Super League, Pakistan has 40 points from nine ODIs, while New Zealand has won all three ODIs and is currently at 30 points. The seven top-ranked sides and World Cup hosts India will advance directly to the ICC Men's Cricket World Cup 2023 in India in October / November 2023.
New Zealand last visited Pakistan in November 2003 when they played five ODIs. A year ago, his last Test in Pakistan was played at Gaddafi Stadium in May 2002. He is remembered for Inzamam-ul-Haq's 329 and Shoaib Akhtar's 11 for six in the first innings, which he scored for an innings and 324 runs. Set up the platform. Victory.
Since the 2003 ODI series, Pakistan has hosted New Zealand three times in the UAE for the ODIs in which the Black Caps won the 2019-10 and 2014-15 series respectively (2-1 and 3). 2, respectively) and the 2018-19 draw series 1-1
However, Pakistan won the 2009-10 and 2018-19 T20 series 2-0 and 3-0 respectively, while the 2014-15 series ended 1-1. New Zealand drew the 2014-15 Test series 1-1 and won the 2018-19 series 2-1.
Series schedule.
September 11 – Arrival in Islamabad.
September 12-14 – Room isolation.
September 15-16 – Training / Practice / Intra Squad Match.
September 17 – First ODI, Rawalpindi.
September 19 – Second ODI, Rawalpindi.
September 21 – Third ODI, Rawalpindi.
September 25 – First T20I, Lahore.
September 26 – Second T20I, Lahore.
September 29 – 3rd T20I, Lahore.
October 1 – Fourth T20I, Lahore.
October 3 – 5th T20I, Lahore.