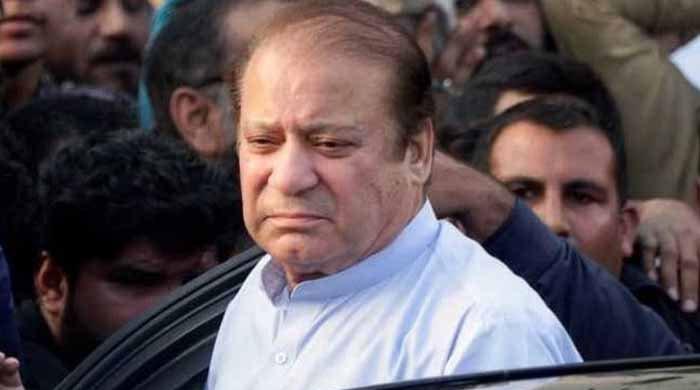 LONDON: Former Prime Minister Nawaz Sharif's UK visa is valid but his request for extension of stay has been rejected by the Home Office with the right to appeal against the Home Office's decision.
Hussain Nawaz Sharif confirmed here that Nawaz Sharif's request for extension of stay has been rejected but an appeal has already been filed in the Immigration Tribunal.
A Home Office source said Nawaz Sharif's stay had been extended since he arrived in the UK two years ago, but did not say how many times he had been given an extension and why he had been denied it.
Hussain Nawaz said: "Rejecting the application, the Home Office granted the right of appeal and the process has begun. We are confident that the Immigration Tribunal will extend Nawaz Sharif in the light of all the facts."
The News and Geo spoke to four different immigration lawyers who suggested that Nawaz Sharif had several options under British immigration law.
Hatem Ali, a leading UK immigration lawyer for GSC Solicitors LLP, said: "If the previous visit visa was extended on medical grounds (which seems to be the case here), you can usually continue the extension for 18 months. In this particular case, it would appear that the Home Office is no longer prepared to expand on this basis.
He added: "If the latest application for extension is rejected with full right of appeal, the whole process of appeal could potentially take anywhere from 9 months to 20 months in the UK. This will be decided by the Immigration Tribunal, even considering any possible judicial review after all the rights of appeal have expired.
"So even though Mr. Nawaz Sharif has been denied, this is not necessarily the end of the process."
Immigration lawyer Muhammad Amjad said Nawaz Sharif would come to the UK as a visitor and apply for an extension on the grounds that it was rejected. He will be legally residing here, whose appeal is pending. The tribunal may extend their visit visa, even if the appeal is rejected. Amjad added: "Applications on medical grounds will be considered outside the scope of human rights immigration laws, ie under Article 8 and possibly under Article 3 of the European Convention on Human Rights (ECHR). There are difficult and complex applications to be successful. Under Article 3, Nawaz Sharif will need to prove that his health is in real danger of a serious, rapid and irreversible decline that will result in severe pain or medical. Lack of access to or access to treatment will lead to a significant reduction in life expectancy. This is a very high threshold and very difficult to achieve. Is included and they are decided which is appropriate and reasonable based on the concept of proportion.
Overall, Nawaz Sharif will be legally residing in the UK and his appeal remains to be decided. Any appeal can take 12-18 months and more.
Barrister Rashad Ahmed said there are a number of grounds and examples that are available under UK immigration law.
Lawyer Rashad Aslam said Nawaz Sharif has several options to continue legally. He said that Article 3 of the ECHR protects against violence or inhuman or degrading treatment or punishment. "In medical claims, a claimant may claim that their return would amount to inhuman or degrading treatment."
Immigration lawyer Barrister Rashad Ahmed said Nawaz Sharif was staying in the UK legally while the immigration tribunal was considering his appeal. He said that due to the ongoing backlog due to epidemic diseases, it could take about two years for Nawaz Sharif's appeal to be decided and if his appeal was rejected, he would be given a fresh request to complete the process. You have the right to start anew. .