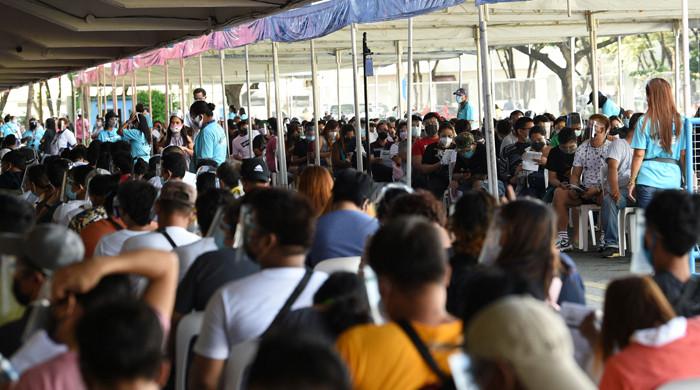 The COVID-19 epidemic is spreading to all regions of the world except Latin America and the Caribbean, with a jump of almost half in North America.
According to one expert, this is the state of the game over the past week. AFP Data base
Rise in North America.
The epidemic is accelerating almost everywhere, especially in the United States and Canada, which have seen an average daily increase of 44% over the past week.
Cases have increased by 20% in Oceania, 11% in the Middle East, 6% in Asia, 3% in Europe and 1% in Africa.
The only region that did not see an increase in cases this week was Latin America and the Caribbean, which saw a 13 percent drop in daily infections compared to the previous week.
Six percent above.
As of Thursday, the average daily number of new cases worldwide rose 6% to 612,000 during the week, according to AFP.
Epidemics have been on the rise since mid-June, largely due to the fact that highly contagious delta forms are now prevalent in many countries.
The number of confirmed cases reflects only a fraction of the actual number of infections, and different counting methods and testing levels vary from country to country.
The biggest spikes.
On a national basis, Israel saw the largest increase in daily transactions with a 101% increase.
Israel is one of the most vaccinated countries in the world and has started providing booster jobs. It found its incidence rate dropped to less than 10 cases per 100,000 inhabitants, but now stands at 243.
After the current Olympics host Japan, 97% of cases are reported daily, followed by Turkey with 56%, Pakistan with 54% and Morocco with 49%.
The biggest drop.
Zimbabwe saw the biggest decline with 46 per cent fewer daily cases, followed by the Netherlands at 44 per cent, Brazil at 28 per cent, Rwanda at 27 per cent and Colombia at 26 per cent.
Most new cases.
The United States saw the largest number of new cases this week with 96,800, an increase of 44%.
It is followed by India (40,600, an increase of 5%), and Indonesia (33,900, a decrease of 20%).
On a per capita basis, the country that recorded the most new cases this week was Fiji, with 824 cases per 100,000 inhabitants, followed by Georgia (575) and Cuba (565).
Most deaths.
Indonesia recorded the highest number of daily deaths at 1,689, followed by Brazil (887) and Russia (790).
The daily death toll worldwide this week was 9,382, an increase of 5%.
Vaccination
Japan led the vaccination race in countries with a population of more than one million and fed 1.77 percent of its population this week.
After Panama (1.72%), then Sri Lanka (1.70%), Malaysia (1.61%), Ecuador (1.26%), China (1.22%) and Saudi Arabia (1.15%).
While they are vaccinating more slowly, the countries with the highest number of vaccination drives are the United Arab Emirates with 172 first or second doses per 100 people, Israel, Canada, Chile and Singapore, 133, Denmark. (130), Belgium (128) and the United Kingdom (126).