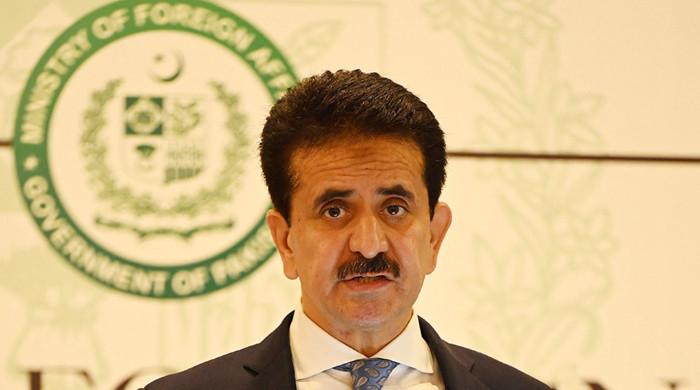 The Foreign Office said on Saturday that the country welcomes the reiteration of the UN position on the Jammu and Kashmir dispute by the spokesperson of the UN Secretary General.
Foreign Office spokesman Zahid Hafeez Chaudhry said the statement confirmed that the UN position on the Jammu and Kashmir dispute was "well-established" and had not changed.
The spokesperson said that Pakistan particularly appreciates the timely statement as it marks the completion of two years of illegal and unilateral actions by India on August 5, 2019 in occupied Jammu and Kashmir.
The spokesman said unilateral measures violated the UN Charter, UNSC resolutions and international law, including the Fourth Geneva Convention.
He said that the statement refuted the statement of India's Permanent Representative to the United Nations which claimed that Jammu and Kashmir was an integral part of India.
He said India would remind itself that Jammu and Kashmir is an internationally recognized dispute and has the longest stalemate on the UN Security Council agenda.
The spokesman said, "It was never part of India and never will be.
He said that several UN resolutions have proved that the final decision of the state of Jammu and Kashmir will be taken in accordance with the aspirations of the Kashmiri people, which is reflected in the democratic process of free and fair referendum held under the auspices of the UN. Will be done through
"Ultimately, India will have to recognize the will of the Kashmiris and the commitment of the international community as enshrined in various UN resolutions," the spokesman added.
The reaction came after spokesman Stephen Dujarric said earlier this week that the UN's stance on Jammu and Kashmir was the same.
"Our position on Kashmir is well established and has not changed," he told a reporter at his regular afternoon briefing in New York.
When asked to reiterate the UN position on the Kashmir issue, Dodgers said: "You will find it in the relevant resolutions. I am not going to repeat it, but our position has changed.