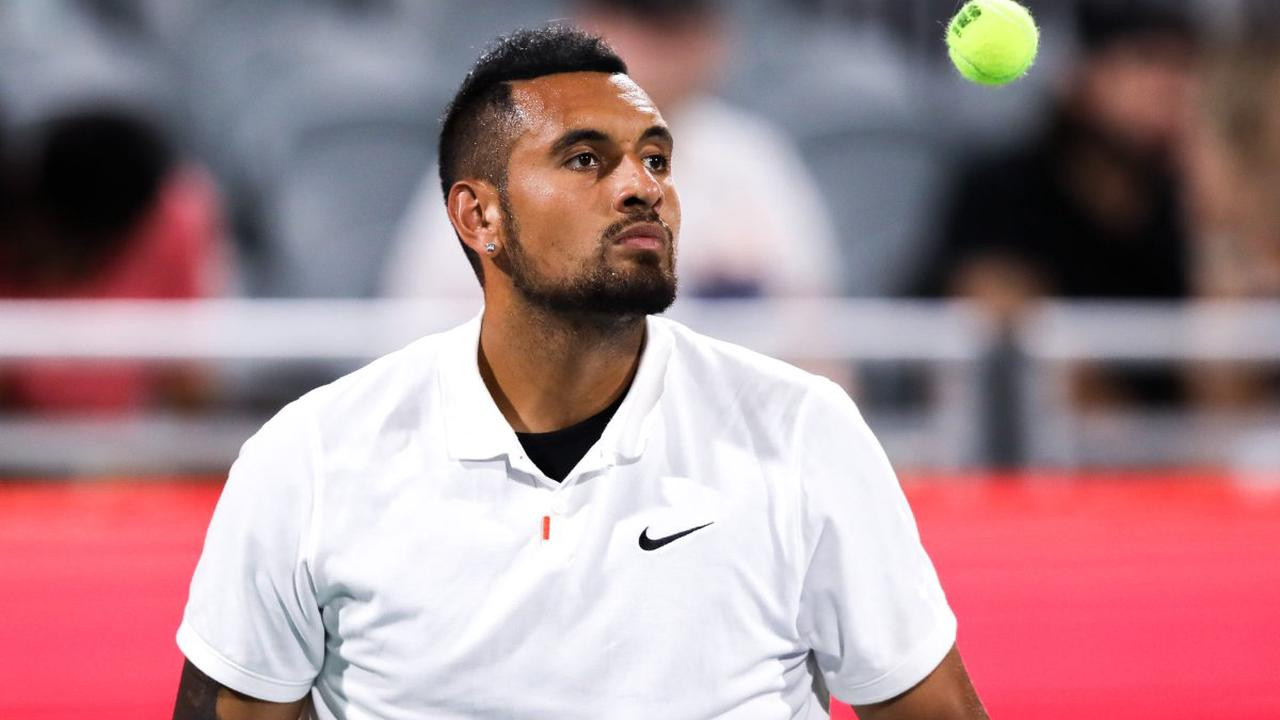 Toronto:

A chair decision shook Nick Kyrgios on Monday, who beat Australia 4-6, 7-6 (7/4), 6-4 in the first round of the ATP Toronto Masters before Rally Opelka. ۔
Kyrgios protested that his American opponent touched the net with his foot late in the second set. When the umpire failed to act on his complaint, the No. 80 concentration was lost.
Despite standing two points from victory in the eighth game of the set, Kyrgios slowly slipped away as the 2.11-meter-tall Opelka converted a comeback in two hours.
At the start of Wimbledon seven years ago, Kyrgios is currently at his lowest position since he was 144th.
The Australian, who has played a limited schedule during the Cove 19 epidemic, was unable to focus on his game, constantly talking angrily on his two coaching boxes.
Opelka finished with 22 axes while Kyrgios hit 16. Australia saved eight of the nine breaks while gaining just two at the service of their opponents. Opelka now faces 14th seed Gregor Dimitrov.
Fabio Fognini needed all his skills to survive in the second round as the Italian showman defeated John Leonard Sturf 6-7 (2/7), 6-2, 6-4.
A tired Fognini threw a racquet over his shoulder after his attempt into a nearby crowd, which lasted about two and a half hours, against the 46th-ranked German.
Along the way, the non-seeded Italian was spotted in the second set by both the doctor and the physio to be warned to waste time as he walked out of the court after being tied for one seat.
Fognini was trailing 3-1 in the final set, but Sturf saved five break points to take a 4-4 break but could not recover in the sixth. A double fault in one of the German two games later gave Fognini a match point, which he converted without hesitation.
Fognini finished with 26 winners while the pair made about 90 unforgivable mistakes. Out of a total of 25 break points, only nine were replaced.
The victory puts Fognini up against fourth seed Andre Rubio, who has won the ATP Cup and Wimbledon doubles matches this season.
Canada lost two of their first four players, Braden Schnorr defeated Lloyd Harris 6-3, 6-3 while Wasik Pospisel defeated Tommy Paul of the United States 6-7 (5/7), 6-2. Defeated 6-3. After saving three match points
Harris will next play second-seeded and defending champion Rafael Nadal, who beat South Africa in a third-round match in Washington last week.
Kazakh Alexander Bablik defeated British number one Dan Evans and will face top seed Daniel Medvedev.
Australians John Millman and James Dickworth also stepped forward. Dickworth's opponent defeated Taylor Fritz 7-6 (7/2), 6-3, his blood pressure and heart rate needed to be checked in the middle match.
"People, I'm fine. This is one of the weirdest things I've ever done. My heart went crazy for no reason." American posted on social media. "I just kept playing because it was weird. I thought I could go back to normal."
Olympic medalist Marin Silk defeated sixth seed Caspar Road to beat Albert Ramos Vinolas 6-2, 4-6, 6-3 to advance to the second round.
The Croatian, who won a silver medal in the historic All-Country Men's Final against compatriots Ivan Dodig at the Tokyo Games against Nikola Mektic and Matt Payuk, will be Norway's first hard-line opponent of the summer for Rhodes. Will
Road won their first match on clay in Rome last season. France's current winner Yugo Humbert defeated Italy's Lorenzo Songo 6-3, 6-4.