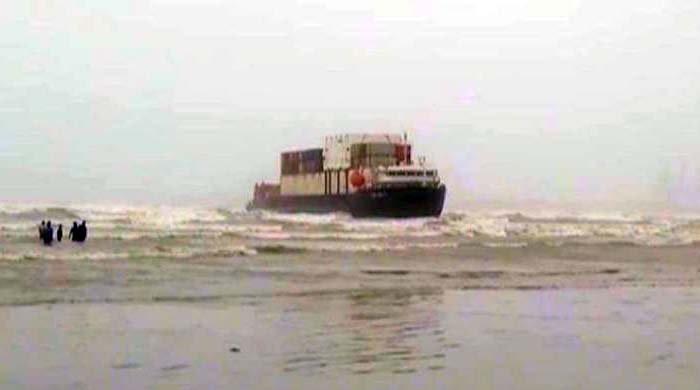 Karachi: The operation to evacuate the stranded cargo ship on Sea View Beach in Karachi has been ended. Geo News. Reported on Wednesday.
The operation was suspended due to delay in the arrival of the bridge, officials said, adding that the operation would be resumed tomorrow.
Rescue work for the ship began on Tuesday when it was first stranded on the beach.
Opinions of shipping experts.
According to shipping experts, orders for help should have come before the ship was taken into custody.
Experts say only a stranded ship can be detained in this way, while a ship that has not been delivered by its owner or crew cannot be seized by port authorities in Karachi.
In addition, if the ship has to be taken into custody for any other reason, the authorities will need a court order, such as approval of dues.
In addition, Assistant to the Prime Minister for Maritime Affairs Mahmood Maulvi said that custody could be claimed under the Criminal Shipping Act on the basis of a defect in the ship.
"There is a provision in the law to keep the ship back, so we will not allow them to take the ship before paying the security and other dues," Maulvi said.
Delivery of the ship.
The plane, Hang Tong 77, was seized by the government of Pakistan and a formal notification was issued in this regard.
According to the notification, the ship has been confiscated by the government under the Pakistan Merchant Ordinance.
Meanwhile, experts say the Hang Tong 77 is unusable for maritime purposes, read the notification.
The caravan crashed on Sea View Beach.
The Karachi Port Trust had said that the MV Hangtong 77, registered in Panama, anchored in Pakistan's territorial waters on July 21 for a change of crew when it lost anchor due to the seas and headed for shore.
The cargo ship was stranded on Sea View Beach in Karachi for 20 days.