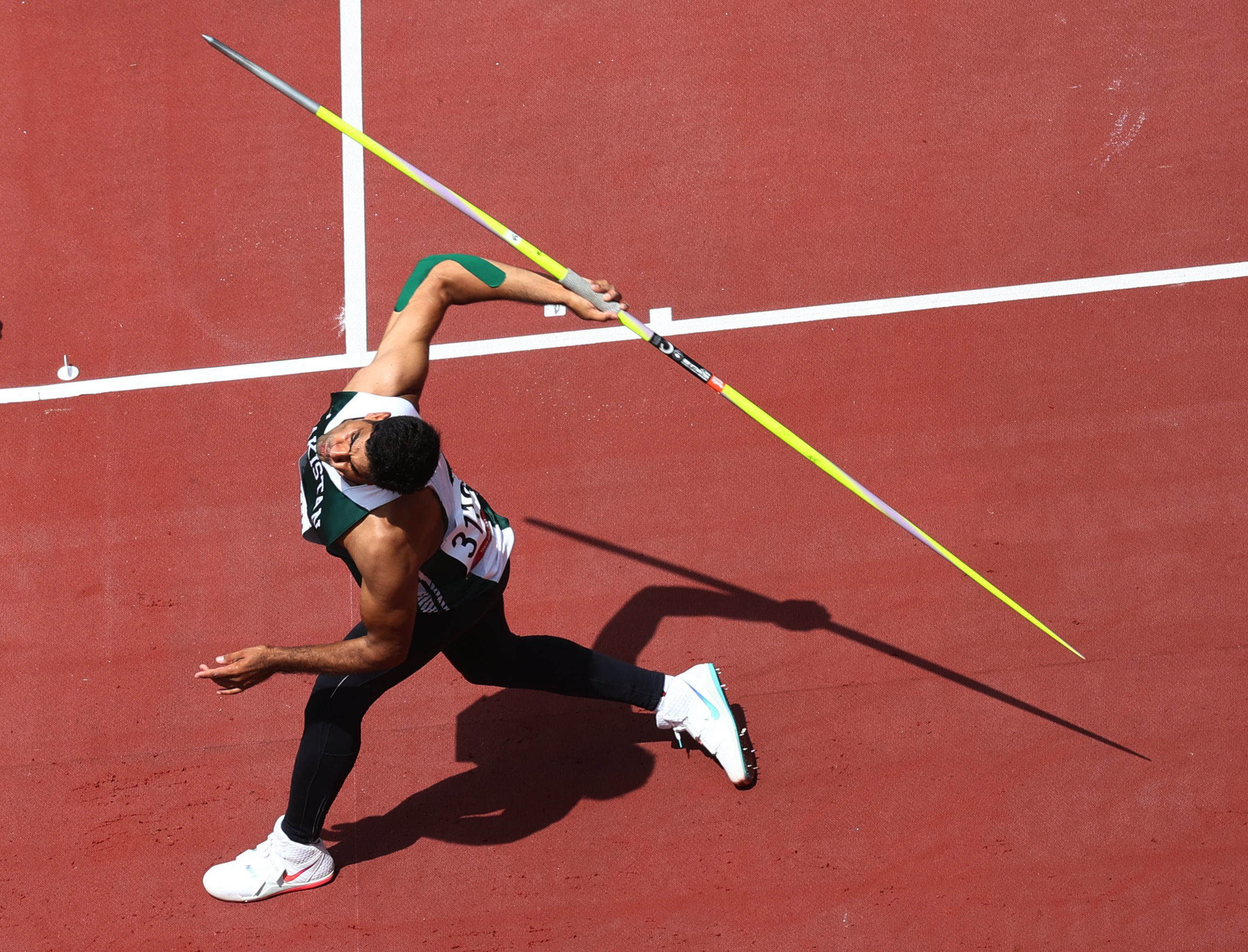 Karachi:

Athlete Irshad Nadeem, who made history in Pakistan, will return to Pakistan on August 12, and his mentor Plus Coach Syed Fayyaz Hussain Bukhari believes the 24-year-old spear thrower has a dream for him, not just as an athlete. But rather as a Pakistani
Bukhari, who has been training Arshad since 2014, feels Arshad's performance in the Julian Throw Final at the Olympics on August 7 was world-class, as he was fifth in Tokyo.
"I just want to say that Arshad did what I could not do in my career as a player. He has done a lot for us," Bukhari told the Express Tribune. "His throws were world class. He lost nowhere and I'm proud of him. Back in 2014, I told him that he could take Pakistan to the Olympics and since then he has been a good student. He did what I could not do. "
India's Neeraj Chopra won a historic gold medal in athletics with a throw of 87.58 meters, taking the lead in the entire event. Silver went to Jacob Wadlejic of the Czech Republic when he threw the second best throw in his fifth attempt (86.67m), while his compatriot Vetslav Wesley won the bronze medal in his third attempt with a throw of 85.44m.
Arshad became the first Pakistani athlete in track and field competitions to qualify for the 2019 Olympics directly in the South Asian Games with a throw of 86.29 meters in Nepal. He had earlier won a bronze medal in the 2018 Asian Games to put Pakistan's athletics on the world map.
Mian Channu, Khanewal's son has been extraordinary with his athletic journey. He initially wanted to be a cricketer but changed his path to becoming a track and field athlete because his brother was a shot put athlete in addition to playing football.
Arshad was trained mostly in Pakistan with Bukhari in the facilities of his home department WAPDA.
Arshad trained abroad for only a short time, but after 2019 he got stuck both times.
After the first outbreak of Covid 19 in China in 2020, it had to be patient because its plans were halted by a global pandemic. Arshad returned to Pakistan and trained in an empty stadium in Lahore, until he received confirmation that the Tokyo Olympics had been postponed until 2021.
He returned to his village and only got back on track in early 2021. He said he had to keep himself mentally strong and active as he struggled to get back in shape and made a successful return to Iran with a throw of 86.38m. His season proved to be the best.
Arshad then went to Turkey for training with Kazakhstani coach Viktor Yuseyukov, but was re-infected in Turkey due to epidemic restrictions and contracted the virus, which weakened him. But he did not give up his dream or courage to compete in the Olympics.
In Tokyo, Arshad qualified for the final as a topper in Group B with a throw of 85.16, advanced to the final by throwing more than 83.50 meters, leaving behind many experienced and advanced players in his group.
"Everyone from home, my parents, my village, they were happy," Arshad told the Express Tribune after his performance in the qualification. "My father said he did not shed tears that day as he did that day. It was a final for him. But I am happy to perform for Pakistan in the Olympics.
Bukhari added that the performance in the final, which put Arshad in fifth place with a throw of 84.62 meters, was a good show.
"We did it with limited resources. He did it on his own and with the help of the president of the Athletics Federation of Pakistan. He supported us, but there is more to this performance.
"Arshad's body did not respond as we expected. It was very hot and he did his best. It was a good effort at the Olympics," Bukhari said.
Irshad and Bukhari are now eyeing the World Athletics Championships.
"Arshad's throws were not bad by any standards. In fact, they were all very competitive. If we look at it from the perspective of the Asian Games and the Regional Games, it was in the top 12. We are going to prepare for it now, "Bukhari said, adding that they are both preparing to come home on the morning of August 12.