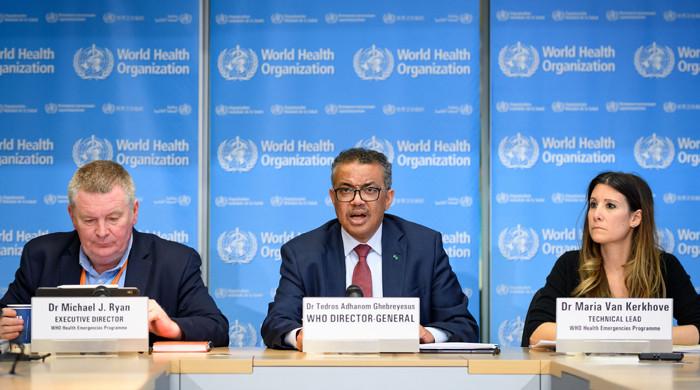 GENEVA: The World Health Organization (WHO) on Wednesday announced major international trials of three drugs to see if they improve the condition of hospitalized COVID-19 patients.
Thousands of volunteer patients in more than 600 hospitals in 52 countries will be tested for Artesonate, Amatenib and Infleximab.
"Finding a more effective and accessible treatment for CUVID 19 patients is a critical need," said WHO Director-General Tedros Adhanom Gabrias.
Artesunate is a treatment for severe malaria. Amatinib is a drug used to treat certain cancers, and infleximab is a treatment for immune system disorders such as crohn's and rheumatoid arthritis.
The WHO said integrated research trials in dozens of countries allow trials to review multiple treatments using a single protocol, thus making strong estimates of the effects of drugs on mortality, including moderation. Effects of
The drugs were selected by an independent panel of experts for their ability to reduce the risk of death in patients with Covid 19 at the hospital.
They were donated by their manufacturers for the trial and are already being sent to relevant hospitals.
The previous trial is over.
Testing for Artesonate, Amatenib, and Infleximab on Covid 19 patients is the second step in finding solidarity for effective treatment against the WHO's killer disease.
Earlier, four drugs were tested in a solidarity trial, involving about 13,000 patients in 500 hospitals in 30 countries.
Temporary results released in October show that remedicavir, hydroxychloroquine, lupinevir and interferon had little or no effect on hospitalized patients.
Final results are coming next month.
"We already have a lot of tools to prevent, test and treat Covid 19, including oxygen, dexamethasone and IL-6 blockers," he told a news conference.
The WHO Covid 19 treatment group recommends reviewing the inflammatory properties of Artesonate, which has been widely used in the treatment of malaria and other parasitic diseases for over 30 years, and is extremely safe. Considered.
A randomized clinical trial in the Netherlands reported that amatinib, a small molecule tyrosine inhibitor, could provide medical benefits to hospitalized Covid 19 patients.
Infleximab, meanwhile, has shown favorable efficacy and safety in limiting broad-spectrum inflammation, including in older populations that are the most medically vulnerable to Covid 19.
Warning 300 million cases.
The novel Coronavirus has killed at least 4.3 million people since its outbreak in China in December 2019, according to official figures compiled by AFP, while about 204 million cases have been registered. Are
Regretting that the 200 million cases came just six months after the 100 million, Tedros said the actual number of cases was "too high".
"Whether we get to 300 million, and how fast we get there, it's up to us all," said the head of the UN health agency.
"On the current path, we could pass 300 million reported cases early next year.
The WHO has consistently condemned the severe imbalance between rich and poor countries in access to the COVID 19 vaccine.