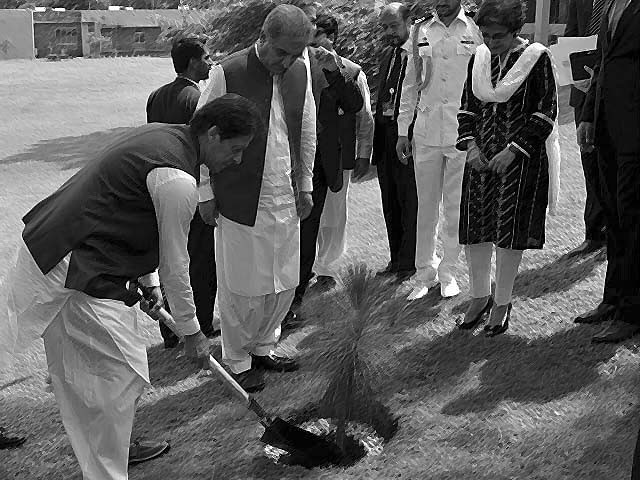 Although Pakistan is not a major emitter of CO2, it is on the list of countries most affected by climate change.
A decade ago, when I attended the Copenhagen Climate Summit in 2009 as an aspiring climate journalist, I was told by meteorologists:
"There are three key points to remember about climate change: it's happening faster than scientists expected ten or five years ago. The decisions we make – or don't make – will be much greater in the next few years." Can have an impact. And climate change can eat itself up. "
Fast forward to 2021 and it looks like the future is already here. This year alone, the world has seen catastrophic floods in China and Germany, heat waves in Canada and wildfires in Turkey and Greece. This week, in its strongest statement to date, the United Nations International Panel on Climate Change (IPCC) declared: "The role of human influence on the climate system is undisputed." This is as clear a statement as a panel of top climate scientists from around the world can make. The work of the IPCC is very important: it is not only the scientists who agree with it, but also the governments of the world, so its reports are very important statements.
In fact, the first part of 6.Th The assessment report doesn't miss a word: a man-made climate crisis is now well under way. Earth is now warmer than before the beginning of the last ice age (125,000 years ago!). The planet has warmed by about 1.1 degrees Celsius since the beginning of the Industrial Revolution. The current series of disasters is a direct result of global warming and more disasters will surely occur unless humanity rapidly reduces its greenhouse gas emissions to zero. This means that the use of fossil fuels must be phased out and the world must protect and increase its green cover.
According to Dr. Stephen Cornelius, Chief Adviser on Climate Change and Global Leadership at the IPCC by WWF
"This is a clear vision of the dire future that awaits us if we fail to act. On the brink of irreparable damage to the world, every part of global warming limits the risks of climate change." Clearly, it is extremely difficult to keep global warming at 1.5C and this is only possible if immediate steps are taken to reduce global greenhouse gas emissions and protect and restore nature.
Years ago we were told in Copenhagen that there is a 2 degree Celsius "guard rail" that can protect us from extreme danger, ie to limit climate change if the global average temperature rises above 2C before its industrial level. No possibility of. Senior climate scientists say the figure should be 1.5C, not 2C – and we're sure we'll get to that soon. We are already at 1.1C
We were told by climate scientists at the time that we could not walk on our own – called "normal business" – because it meant creating infinite emissions into the atmosphere, and an unknown rise in temperature. ۔ An important point of the current IPCC report is that it is now clear that the world is moving towards a temperature of 1.5 degrees Celsius by 2040. Himself, in most of our lives! This is a strong warning from scientists.
The IPCC is urging humanity not to waste any more time taking action. Governments need to take drastic measures to reduce emissions, especially from climate change partners such as the United States, China, the European Union, Russia, the United Kingdom and Japan, which account for 60% of the global carbon dioxide budget. Are The United Nations Climate Change Conference in Glasgow next November will be a crucial global event where governments will have to make important decisions.
Although Pakistan is not a major emitter of carbon dioxide, it is in the top 10 list of countries most affected by climate change. According to German Watch's annual report, the Global Climate Risk Index 2021, Pakistan is the eighth most affected country by long-term climate-related disasters from 2000 to 2019. There were 173 climate-related incidents in the country, with around 500 deaths.
According to Malik Amin Aslam, Special Assistant to Prime Minister Imran Khan on Climate Change, "About five to six per cent of our GDP is washed away every year. Climate change is a reality for us, from super floods to heat waves. Aslam was the architect of the successful Billion Tree Tsunami Project implemented in KP, under which 60 per cent of the trees were planted as a result of conservation of natural forests, while 40 per cent were planted by local communities in the province. According to Aslam, the Billion Tree Tsunami has increased the forest cover in Khyber Pakhtunkhwa by 6%, according to Aslam.
Currently, activities across the country during the rainy season are underway as part of the Ten Billion Tree Tsunami Campaign, led by the Ministry of Climate Change under the Prime Minister's Clean and Green Pakistan initiative. Prime Minister Imran Khan's government is making it a top priority to tackle Pakistan's environmental degradation and improve its forest cover while tackling climate change. His flagship Ten Billion Tree Initiative, which he says will create 200,000 new green jobs, was launched in July 2019.
The Ministry of Climate Change has now developed seven different plans for all provinces and territories, ranging from protecting mangroves on the coast to expanding natural forests in the north and planting new forests in the plains. It is a four-year project funded entirely by the Government of Pakistan at a total cost of Rs. 125 billion. The project is currently being implemented in collaboration with the Ministry and the provincial forest and wildlife departments. Most recently, they achieved the 1 billion tree planting target set for June 30, 2021.
In all provinces, the federal government provides half of the funding, while other governments pay through their development budgets. The cost includes a geo-tagged system that helps administrators monitor trees using GPS. Once the trees grow, they will be monitored by satellite. The program will be independently overseen by a consortium comprising IUCN and WWF and the Food and Agriculture Organization of the United Nations (FAO).
Rabb Nawaz, senior program manager at WWF Pakistan, says the current tree-planting effort is "a great idea to create green jobs and provide jobs during epidemics." But he warned that planting trees is just one weapon in the fight against climate change, adding that the government should also invest in improving the capacity of farmers and city dwellers to cope with the effects of global warming. Required. The government will also have to reduce its carbon emissions by shifting to renewable energy sources as we move towards a future of net zero emissions.