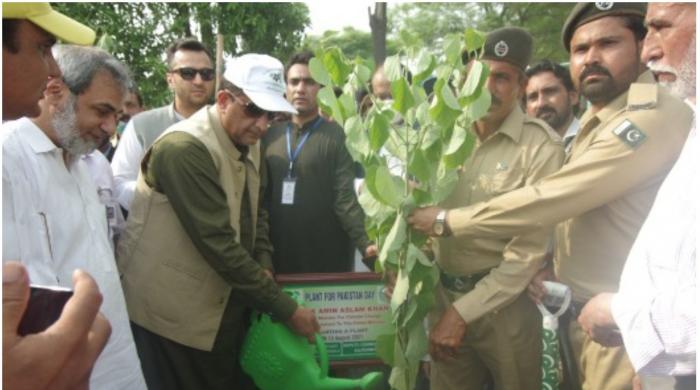 LAHORE: Pakistan on Thursday broke India's record of planting as many trees as possible in one minute as more than 50,000 trees were planted during the tree planting campaign in Gujranwala.
The campaign was led by Malik Amin Aslam, Special Assistant to the Prime Minister for Climate Change, who said that 52,040 saplings had been planted in the presence of Guinness World Records representatives. Improved the record. The tree
Earlier in 2015, Bhutan set a world record of 49,672 saplings.
After the siren sounded, about 12,500 students planted more than 50,000 saplings in the area between the Rawalpindi Bypass and the Moon Fort Bypass.
47 drone cameras recorded the activity.
Malik Amin Aslam said it was even better as boys and girls have set a world record of planting at least 52,040 saplings, adding that the Parks and Horticulture Authority (PHA) Gujranwala plant growth Will take care of them till
He said that the people of Gujranwala have sent a message to the country on the occasion of 74th Independence Day that August 14 should be celebrated as Green Pakistan Day and everyone should plant at least one plant.
Appreciating this spirit, he said that the students were standing in a 14 km long queue to plant 10 billion trees in the country under Prime Minister Imran Khan's Clean and Green Pakistan campaign.
Explaining Prime Minister Imran Khan's vision to make Pakistan green, the SAPM said that planting trees was in accordance with the Sunnah of the Holy Prophet (PBUH), adding that Pakistan was one of those countries. Is severely affected by climate change, and planting trees took time
Amin Aslam said that Pakistan is at the forefront of the tree planting campaign in the world while the people of Gujranwala are leading the nationwide campaign. Degradation
The SAPM said the plants would not only combat global warming but also defeat the ignorance of political rivals in Gujranwala, who had claimed that tree planting, wildlife under the Clean and Green Pakistan campaign Will invite to the city.
Referring to the 10-year rule of PML-N in Punjab, he said that it was the same political party which allowed 70% green cover of Lahore to end in just 10 years. It was known as the 'City of Gardens'.
Regarding the Green Corps being declared a security risk by political opponents in Gujranwala, he asked them to avoid ignorance and plant their own tree.
SAPM also planted a plant on climate change.
He was accompanied by Federal Parliamentary Secretary for Climate Change Rukhsana Naveed, Commissioner Gujranwala Division Zulfiqar Ahmed Ghman, Deputy Commissioner Muhammad Sohail Khawaja, Chairman PHA Gujranwala SA Hameed and Coordinator Punjab Clean and Green Program Amir Majeed.