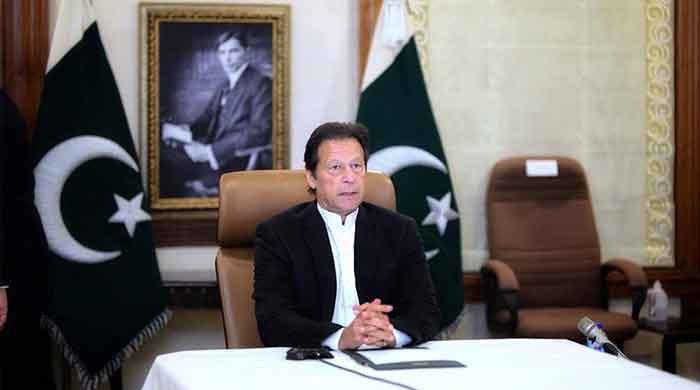 ISLAMABAD: Prime Minister Imran Khan on Saturday said that the new Pakistan has shifted its focus from geo-politics to geo-economics, adding that the welfare of the people is the top priority.
In his Independence Day message, Prime Minister Imran said, "We want peace inside and without peace to advance our social and economic agenda.
Reiterating Pakistan's commitment to stability in Afghanistan, he said that Pakistan had made tremendous sacrifices and had paid a heavy price for instability on its western border.
We have consistently emphasized that there is no military solution to the Afghan conflict. Pakistan will continue to support a negotiated political solution for lasting peace and stability in Afghanistan.
The Prime Minister said that with the global recognition of the government's policies towards reviving the economy, combating COVID-19 epidemics and environmental protection, Pakistan today can stand among the nations of the world.
"Our policies to revive the economy, control epidemics and protect the environment have been universally accepted," he said.
"As we wave the national flag on Independence Day, we must reaffirm our determination to uphold our national values ​​of unity, faith and discipline in the spirit of Quaid-e-Azam Muhammad Ali Jinnah," he added.
The Prime Minister said that Pakistan has overcome memorable challenges in its history to emerge as a united, peaceful and resilient nation.
"Even today, changing regional dynamics with some domestic issues are testing our resolve. As always, we will overcome these obstacles with our own determination and come out stronger as a nation." ۔
He further said that our government has made every effort for the development and prosperity of Pakistan.
This country is undoubtedly a gift from God Almighty to us. I once again congratulate all Pakistanis at home and abroad on this auspicious occasion. I ask you to play your role in making Pakistan a proud, prosperous and peaceful nation state.
The Prime Minister further said, "On this occasion, we must not forget our Kashmiri brothers and sisters in our occupied Kashmir who are fighting for their right to self-determination in extremely adverse conditions due to illegal Indian occupation and indescribable oppression." Are. "
He said that Pakistan would continue to give full support to Kashmiris for their legitimate cause. Kashmiris are looking to the international community to deliver on their promises.