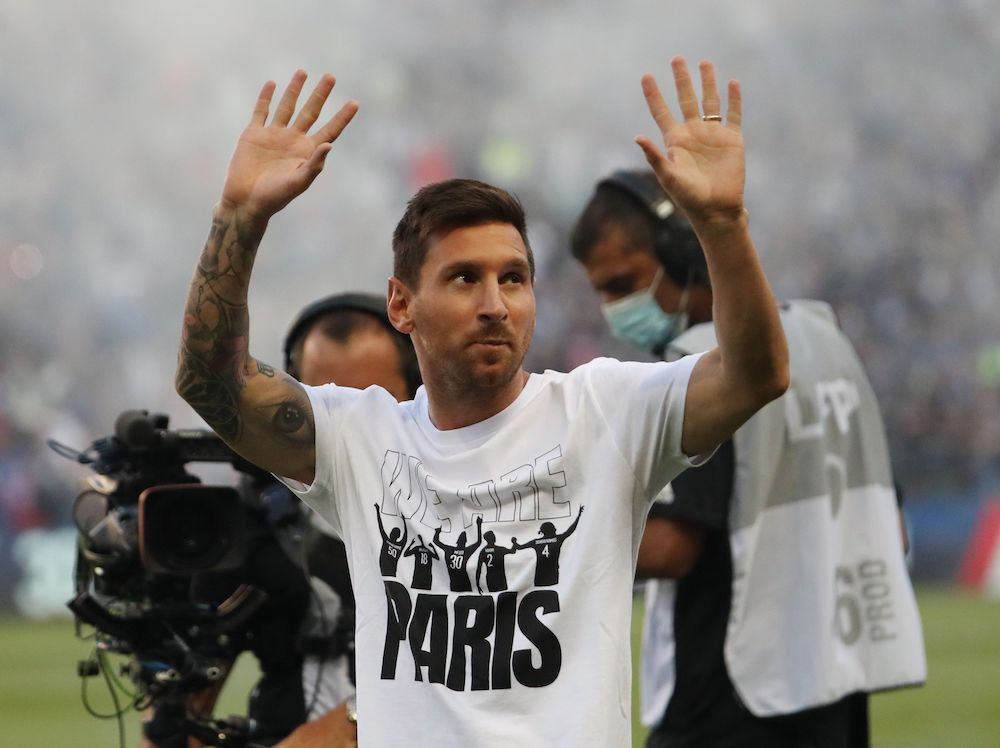 Paris:

Lionel Messi got his first proper taste of his new home on Saturday when he was introduced to a full stadium of Paris Saint-Germain fans before his team-mates beat Strasbourg 4-2 in League 1. In which Killian Mbabane played an important role.
Messi received a rousing welcome as he ran on the pitch with other PSG summer signings, an hour before the kick-off, despite welcoming the six-time Ballon d'Or winner to the 48,000-strong house. Was held.
Messi joined fellow recruits Sergio Ramos, Gianluigi Donaruma, Giorgione Vijnaldum and Echraf Hakimi on the turf stage at the Park des Princes, and the presentation threatened to overshadow the match.
Argentina were later seen standing side by side with Neymar and Angel Di Maria – all three have yet to find a match fit after enjoying a long break after playing in the Copa America – as Mauricio Pochettino's side have lost two League 1 matches. Win two seasons
They took a 3-0 lead at halftime thanks to a goal from Moro Accardi and Julian Drexler both from Ludwig Ajork's own goal, but Kevin Gameiro and Ajork scored after the break. Brought back to the competition.
However, Pablo Serbia secured a late victory when Strasbourg lost 10 men in the first match played in front of a full house in Park des Princes before the Cove 19 epidemic in March last year.
"With what was happening at the club, it was not easy to stay focused on the game," Pochettino admitted in broadcaster Canal Plus.
Spectators included Formula One driver Pierre Gasley, former French Olympic judo champion Teddy Rainer and NBA star Ivan Fournier.
Everyone wanted to catch a glimpse of Messi, but Argentina are unlikely to set foot in Paris in a few weeks.
Although Macy's is the new idol of PSG support, the fans cheered when the stadium announcer introduced the name Mbabane.
The French striker is in the spotlight with speculation that he will try to move away from PSG before the transfer window closes – he has so far refused to extend his contract, which Ending at the end.
Pochettino added: "Killian is focused on what he has to do here. He had a great game and he needs to keep going."
Mbappe played a key role in PSG's victory, securing a moment from Icardi on Abdo Dialo's cross in the third minute.
The second goal came in the 25th minute when Mbabane's shot went through Ajurk's face with a cruel defect, and two minutes later it was Mbabane's cross that Drexler put on the back post.
However, former PSG striker Gameiro pulled back for Strasbourg shortly after half-time with a header, and then the gigantic frontman Ajork scored with his header to make it 3-2. done.
Mbabane came close to scoring and PSG was sweating before his opponents sent defender Alexander Jako nine minutes away when Fall on Icardi made him a second booking.
PSG won 4-2 with four minutes left when Mbabane exploded towards the byline and cut the ball to replace the substitute Serbia.
Earlier, Lily – who had ruled out the PSG title last season – suffered a humiliating 4-0 defeat at home to Nice, whose coach Christophe Galtier won the summer championship. I joined
Galtier oversaw Lilly's stunning title victory in May but then ended his three-and-a-half-year association with the club and headed south to take charge of a passionate Nice organization owned by Anis, the group's Presided over by British billionaire Jim Ratcliffe.
Denmark striker Caspar Dolberg scored a goal for Nice, his goals came on both sides of the Hutch Budaui strike and the penalty was converted by Amin Gowri.