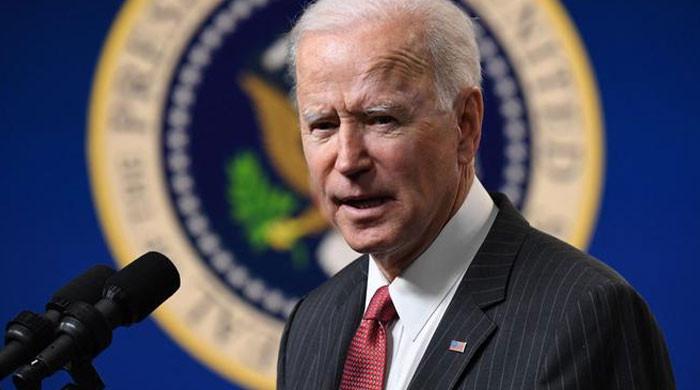 WASHINGTON: President Joe Biden has reiterated that the Afghan armed forces will have to defend their country and that if they are unwilling or unable to defend their territory, the US military presence will be extended for another year or five. It won't matter.
One more year, or five years, in the presence of the US military, it doesn't matter if the Afghan army can't or won't keep its country. And the unending American presence in the midst of another country's civil war was unacceptable to me.
With a little strategy, he promised to send more troops to evacuate civilians and warned the insurgents not to threaten the mission.
After consulting with his national security team, Biden said that a total of "approximately 5,000 to 5,000" US troops – more than 3,000 – are now managing the evacuation and ending the US mission on the ground after 20 years. I will help.
However, defending his position, the president announced that the country's military presence in the region would not matter after more than 20 years of conflict.
"The United States went to Afghanistan 20 years ago on September 11 to defeat the invading forces. That mission resulted in the death of Osama bin Laden a decade ago and the demise of al Qaeda. And yet 10 years later As Biden said in a statement issued by the White House on Saturday afternoon, "since becoming president, a small number of US troops are still on the ground. With a return date.
"During our country's 20-year war in Afghanistan, the United States has sent its best young men and women, invested about 1 1 trillion, trained more than 300,000 Afghan soldiers and police, they Equipped with state-of-the-art military equipment, their air force is part of the longest war in American history.
"I was the fourth president to preside over the US military presence in Afghanistan – two Republicans, two Democrats," Biden said, dismissing Azanistan's policy on behalf of his predecessor.
He warned the Taliban that any action that "threatens US personnel or our mission will be met with an immediate and strong US military response."
Biden's announcement came as Taliban insurgents seized the central northern city of Mazar-e-Sharif and continued a rapid march toward the capital, Kabul.
Afghan President Ashraf Ghani vowed on Saturday that "the war imposed on the people will not lead to more casualties" and said consultations were under way to help end the war without giving details.
His spokesman said US Secretary of State Anthony Blanken, who was part of the team that met with Biden, spoke to Ghani by telephone on Saturday.
"They discussed the urgent need for ongoing diplomatic and political efforts to reduce the violence," said spokesman Ned Price.
Biden said Blanken was expected to hold "talks with key regional stakeholders" on Kabul's growing Taliban march.
Earlier, the US Central Command said more US military personnel had arrived in Kabul to ensure the safe evacuation of US embassy staff and Afghan nationals working for US citizens.
The Pentagon estimates that it will need to evacuate about 30,000 people by August 31 before completing its withdrawal from Afghanistan, the deadline set by Biden.
Biden's decision to withdraw troops from Afghanistan comes under further scrutiny in light of the country's involvement in the country's armed forces, but he says he has no choice – and puts some blame on Donald Trump. ۔
"When I came into office, I found an agreement cut by my predecessor that left the Taliban in the strongest military position since 2001 and imposed a May 1, 2021 deadline on US forces," Biden said. ۔ "
"I had a choice – to abide by the agreement, safely withdraw our forces and our allied forces with a brief extension, or increase our presence and send more American troops to another country's civil war." Send me to fight again. " He added.
"I was the fourth president to preside over the US military presence in Afghanistan – two Republicans, two Democrats. I will not and will not move this war to a fifth," Biden said.