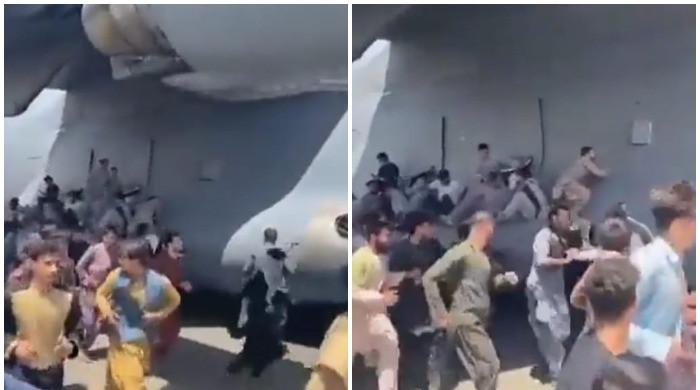 KABUL: While taking off from Hamid Karzai Airport, three Afghan nationals fell down after being hit by a US plane on Monday.
The dead Afghans reportedly hung the plane as it was about to take off, but the plane took off its landing gear as it took off.
Civilians were reportedly killed in the crash.
The horrific scene of the unfortunate civilians falling from the plane was captured on camera and a Twitter user shared a video after the incident.
The video shows a man who fears the new Taliban regime in the country, clings to it even after the plane has taken off, and hopes to find a way out of Afghanistan without fear of its deadly consequences. Will come out
The video surfaced on social media at a time when news of hundreds of Afghans trying to leave the country was already circulating.
Another video from the airport, shared on Twitter, shows a crowd of people walking with a plane that was about to take off.
Many of them were even trying to somehow attach themselves to the plane or were 'inside', just to take advantage of the least possible opportunity to leave the country after the Taliban took over. For
Amid the evacuation of American citizens and other foreigners from Afghanistan after the fall of Kabul, thousands of frightened Afghans tried to leave the country at Hamid Karzai Airport.
Panic erupted at Kabul Airport on Sunday night and Monday, as a sea of ​​people rushed to the Hamid Karzai International Airport to catch flights outside the country after the Taliban took over.
Upon entering Kabul on Sunday afternoon, the Taliban announced a general amnesty and urged citizens not to run out of fear and panic.
However, several video clips went viral on social media, showing thousands of Afghans rushing to Kabul airport in hopes of securing a flight out of the country.