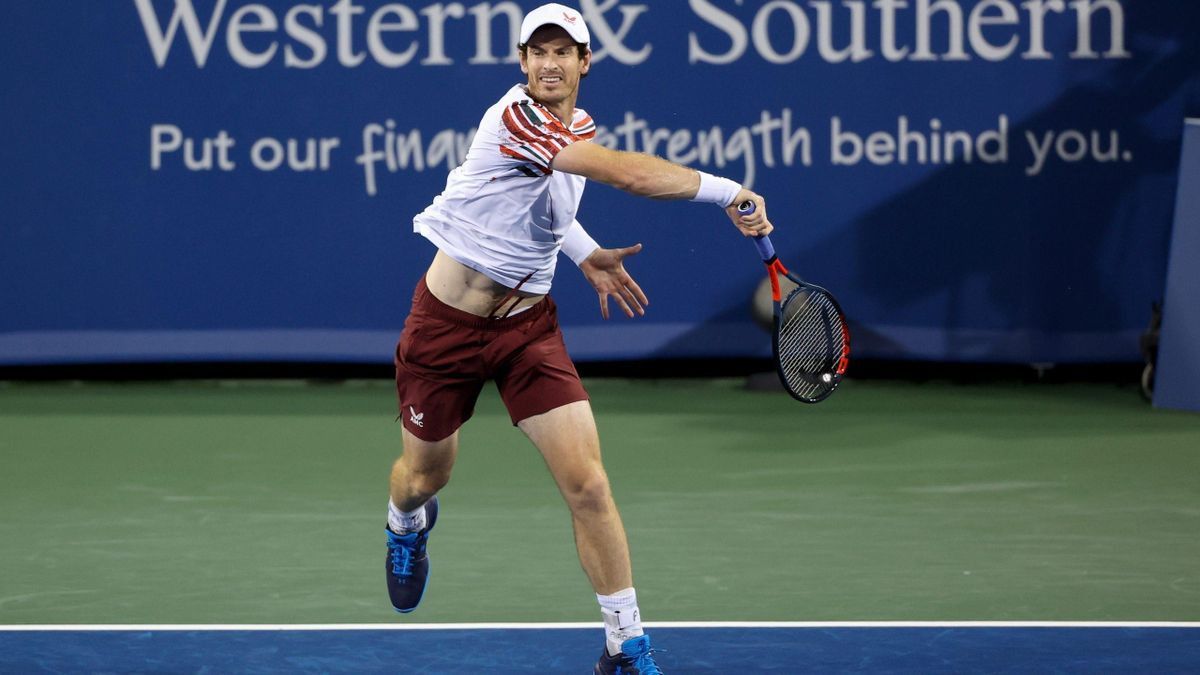 Cincinnati:

Andy Murray returned to the ATP Tour on Monday after his last match at Wimbledon, beating Frenchman Richard Gasquet 6-4, 6-4 in the second round of the Cincinnati Masters.
The three-time Grand Slam champion, who has won two titles here and played in the 2016 final, is struggling with back strain over the summer.
Murray, with 15 of his 38 winners, was happy with his effort.
"I thought I did well. I moved very well to the hard courts for a while for my first singles match," he said. "(I) was definitely a little more confident in my movements when I played it a few years ago (2019).
"He uses all the angles of the court very well and takes you very far.
"I thought I was controlling the rallies when I had the chance so it was a good match."
Wildcard Murray and Gasket, a longtime rival whose 53rd ranking meant he had to qualify, were first played 15 years ago.
Scott, who reached the third round of Wimbledon, is leading the series 9-4. They last met here in 2019.
Murray hit 14-21 and broke the win three times in less than two hours.
After three games lasting a total of 20 minutes at the start, Murray took a 5-3 lead, which he lost one game before breaking again after winning the first set 6-4.
Gascoat broke in the final game of the match after saving a match point before Murray prevailed.
Also, birthday boy Jenk Senner turned 20 on a rain-affected day and celebrated the victory.
The young gunman entered the second round after a late start by 34-year-old Italian compatriot Fabio Fognini.
Sinner erased disappointing memories in the first round in Toronto a week ago when he lost his opening match to Australian qualifier James Dickworth.
The 15th-ranked youngster did well in Cincinnati as he defeated Federico Delbonis of Argentina 6-2, 7-5.
Fognini joined the party for the first time in the meeting, 7-6 (7/3), with a 6-3 victory over Nicolas Basilashvili of Georgia.
"I gave myself the perfect gift," Sener said. "I played and won a match in a big tournament on my birthday." Sinner later posted pictures of himself and his team on social media to celebrate. People are enjoying pizza.
Diego Schwartzman of Argentina turned 29 that day, defeating British number one Dan Evans 6-2, 4-6, 6-3 after more than two hours.
Welcoming the full crowd's return to the event, the South American said he hoped it would be among the 19 epidemics.
"Right now I'm happy. In the United States, where tournaments are about 100 percent people and 100 percent normal."
South Africa's Lloyd Harris advanced to the second round against Tokyo Olympic gold medalist Alexander Zverev as he defeated Japan's Yoshihito Nishiuka 6-3, 6-4 with the help of 11-21.
Canadian Felix Auger-Eliasim overcame his first-round defeat at home a week ago and defeated Martin Foxovs 7-6 (7/0), 6-3, playing all day in a rain-soaked match. Free
Dominic Kopfer defeated John Leonard Sturf 7-6 (7/2), 5-7, 6-3 to win the All-German First Round.
In the women's draw in the joint event, Roland Garros finalist Barbora Karjikova started singles in the Midwest as she defeated Russia's Daria Kastkina 6-3, 6-2.
Petra Kvitova, the 12th seed from the Czech Republic, a two-time semi-finalist, defeated 2019 champion Madison Keys 7-5, 6-4 to avenge her January 2020 defeat at the hands of the Americans in Brisbane.
Spain's Paula Budosa saved five match points in two and a half hours to beat Petra Martic 4-6, 6-4, 7-6 (11/9) and the next match was between third seed and Montreal semi-finalist Ariana. Will be from Sabalinka.
Swiss Jill Tachman stopped Romania's Sorana Cristia from losing just two games.