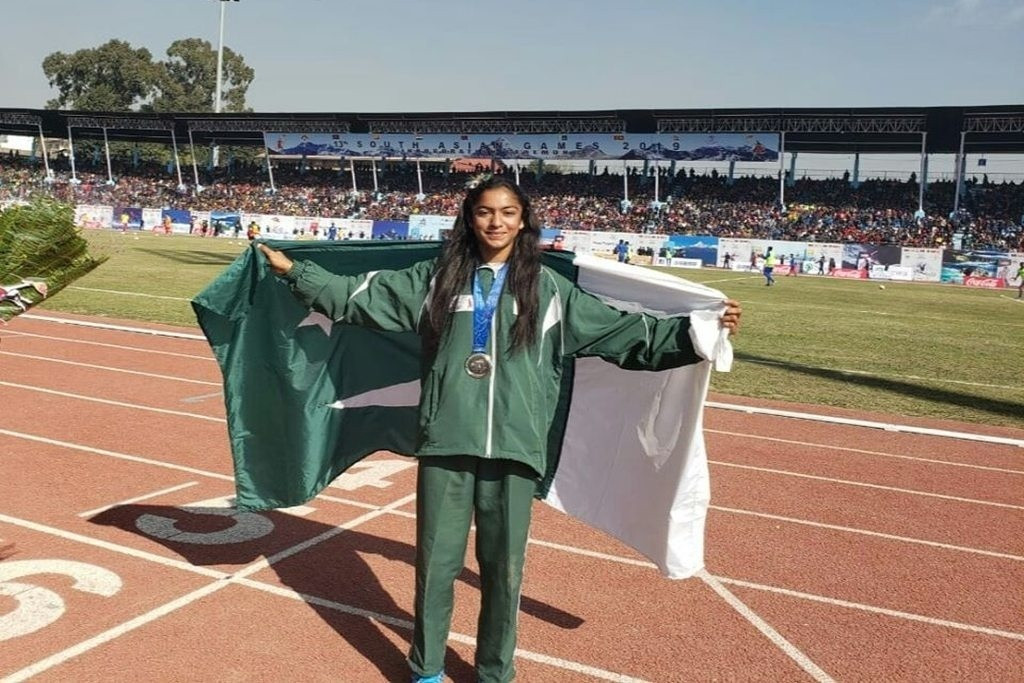 Karachi:

Ms. Isra, one of Pakistan's fastest women, believes it is time for Pakistani fans, sports officials and the government to help athletes. She feels that Arshad Nadeem's spear-throwing campaign at the Tokyo Olympics has been an encouraging and game-changing outcome for athletes across Pakistan.
More than a week has passed since the end of the Olympics in Tokyo and thanks to Nadeem and weightlifter Talha Talib, Pakistanis have finally started watching sports other than cricket.
Isra rose to prominence in 2018 when she became the fastest woman in Pakistan to win a gold medal in 11.60 seconds at the National Athletics Championships. He then went on to win a gold medal at the National Games 2019 at 4,400 and three silver medals at the 100m, 200m and 400m, respectively.
If anything, Israel is a clear contender for the results of the 2024 Paris Olympics, as runner-up Najma Parveen is losing momentum with her latest tour in Tokyo. She finished last in the heat in the 200m event.
But Asra is focusing on the effects that track and field players can have, thanks to which Irshad finished fifth in the javelin throw event at the 2020 Olympics. It was the first time for Pakistan that an athlete was directly qualified for the Olympics on the track and field, and then reached the final.
"If you are pursuing a career in athletics in Pakistan, you lack more struggle and motivation than athletes from other countries," Isra said. Express Tribune..
With Arshad's feat, I think we are all very encouraged that a player can achieve something while living in Pakistan. He did this mostly during training in Pakistan and it is very encouraging because most of the players who are not cricketers are ignored and we do not get proper facilities. Arshad performed very well and then the recognition made me and others feel that we have a future. But as far as sponsors, resources and facilities are concerned, we need more help.
"Arshad's faith has been impressive and I have seen him work hard. Sometimes I get frustrated in my career as a professional athlete in Pakistan, but now I think we have hope. We just have to be positive.
For Asra, who was hoping to be selected for international competitions after her stellar performance in the 2019 South Asian Games, Coveid 19 brought unbeatable challenges. He won a silver medal in the 4x400m relay, a bronze medal in the 4x100m and a bronze medal in the 400m, but all to no avail because the events were postponed or canceled due to epidemics.
Olympic medal dream.
However, Isra has kept himself active by training in his hometown of Faisalabad.
Even on August 14 this year, Pakistan's Independence Day, he celebrated through training, hoping to compete for WAPDA locally in the National Games or National Championships. He is also eyeing the upcoming Asian Games and Commonwealth Games. But in the end, she wants to make Pakistan proud in the Olympics.
Pakistani women have yet to win an Olympic medal.
"I need good training for this medal in the Asian Games, and then of course the Commonwealth Games. But I really need training and coaching that can help me improve. Hopefully we can do better. But we need more coaches and facilities in athletics. "I also dream of the Olympics, but I want to qualify directly. I want the country to be proud.
WAPDA athletes feel that they need coaches who can guide them better. She has been training with a Nigerian coach for years, but it is online.
He also had to skip his favorite event, which was 100 meters, because he felt his technique was not working.
"I left it because my coach told me the technique wasn't working. In the 100 meters, there is a lot of competition and it's harder than other events. But that's the main reason I left it. "My coaches are not with me. Just sending videos and training online can't help a player enough," Irsa said. "My arms are also a bit weak and sometimes when I tried to beat the record on my own I couldn't do it. My coach told me that the reason is that there is a gap in coaching that is not online. Can be filled and I should take care of my diet and training.
Isra is now focusing on the 200m and 400m.
"My coach told me that these events are good for me and I think I am doing well. That is my goal in international events." When they can see the power of sports in Tokyo through the incredible performances of Arshad, Talha and shooter Gulfam Joseph.