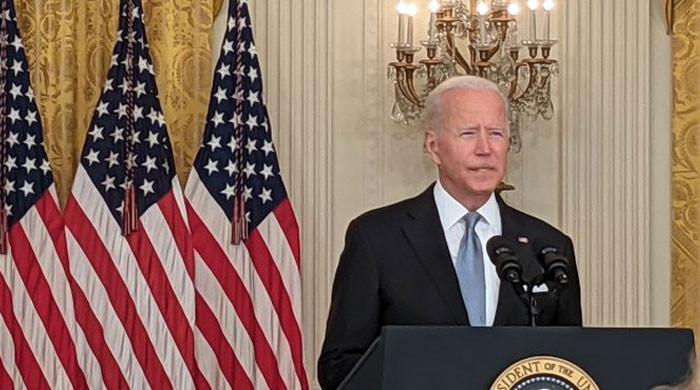 WASHINGTON: President Joe Biden said Wednesday that US troops would not leave any American behind in Afghanistan, even if it means staying in Taliban-controlled Kabul longer than scheduled.
Biden told ABC News that in his first interview since the Taliban took control of the Afghan capital, chaos was inevitable.
US leaders have said they stand by the August 31 deadline to remove the last troops and hand over the country to the victorious Taliban.
However, Biden said for the first time that US troops could stay longer if any Americans were still trying to flee. "If there are any American citizens left, we will stay to get them all out," Biden said.
The US president did not specify how the extension would work.
The Taliban are on the sidelines as US troops fly in to secure Kabul airport and organize evacuations.
But the militants have complete control of the rest of the city and are primarily able to decide who passes and who doesn't, while foreign forces are extremely limited in their ability to maneuver safely outside the airport. ۔
When the small U.S. military pushed for the evacuation, Biden told ABC News that it would never be easy to get out.
"The idea is that somehow, there's a way out without chaos – I don't know how," Biden said.
He added that the Taliban were currently assisting US forces, which they had spent so many years fighting – at least helping foreign nationals escape.
"They're cooperating, they're letting Americans go out, they're letting out American officials, they're letting out embassies, and so on," Biden said.
However, "we are facing some more difficulties who helped us when we were there," he said, apparently referring to local Afghans who previously worked with US and foreign forces and who now Fear of revenge.
In an interview, the president dismissed criticism that his administration had suffered a major intelligence failure.
"It was a simple choice," Biden said.
Referring to the end of the night near the Western-backed Afghan government and army, Biden said he was confident the planned US withdrawal would move forward.
"The threshold question was whether we pledged to go within our allotted time …
When asked if he saw images of frightened Afghans falling out of planes and planes, Biden said his response was: "We have to overcome it, we have to move it faster. We have to move forward in a way that we can take control of this airport. And we did. "