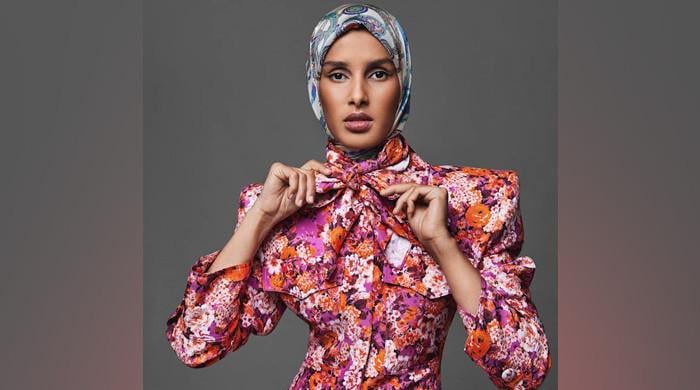 Radha Mohammad has paved the way for the Muslim community after becoming the first hijab-wearing fashion editor in the newly launched V.Ogg Scandinavia.
Growing up in a refugee camp as a refugee in Norway, he was harassed for wearing a headscarf and faced Somali racism.
"We came to Norway and for two years we lived in a refugee camp in a very small town. It was very difficult because the people there were very racist. They didn't want any refugees there because they understood. That we are dangerous and we were there to take their jobs. Arab News.
"When they teach you that something is wrong with you, that you are the problem and you have to change, I didn't like that. I still don't have my freedom.
"So I continued to wear the hijab just to make a statement."
Talking about how her interest in fashion grew, the 27-year-old said she was impressed by her experiences in a refugee camp where women were very expressive with their hijabs.
"In the Kenyan refugee camps, only teenage girls wore the hijab. I loved copying what they wore and how they spoke and walked. They put accessories on their hijabs and it was very stylish." he said.
However, a career in modeling was not something she had ever planned as a mutual friend when she kept in touch with her manager while pursuing a degree in behavioral analysis and healthcare.
"I went to a fashion show in Oslo in late 2018 where I met my manager. He told me what he was doing and I went to his office for a meeting and I said I'm not sure. I want to be a model but I wanted to work in fashion, "said Muhammad.
However, her career eventually came to a screeching halt as the industry was not familiar with the way hijab modeling works.
"At first I was amazed at the attitudes of people who were different or not accustomed," he said.
"There are situations where I come and they know I can't show my hair or anything so they will ask for a meeting beforehand and try to persuade me to show a little hair. Or they ask. How many hairs are there? I'm ready to show because they would like to see just a little bit.
As the first generation of hijabi models, this is our job. Hijab is not a model or the Muslim community sees it.
"So we have a responsibility to educate the fashion industry about how our community works, how we see ourselves and how we interpret the hijab."