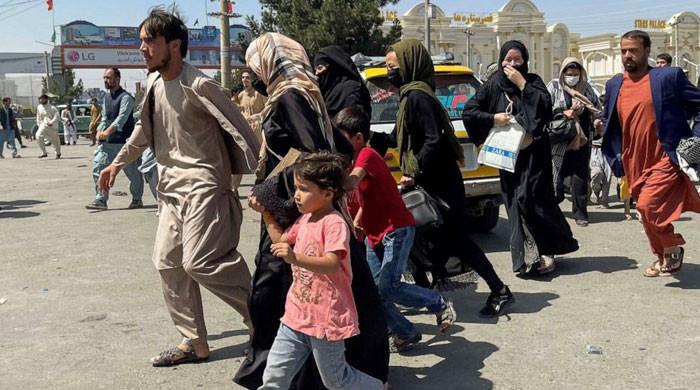 KABUL: Emergency flights of foreign nationals and Afghans working with them are gathering from Kabul as more details of frustration and fear emerge.
Here's a roundup of the latest developments:
– Biden says evacuation is difficult, but determined to get out
US President Joe Biden said on Friday that he could not guarantee the outcome of the emergency evacuation from Kabul, calling it the most difficult airlift operation ever.
"It's one of the biggest, most difficult planes in history," Biden said in a televised address to the White House.
"I can't promise what the final outcome will be, or … that it will be without the risk of harm.
"But as Commander-in-Chief, I assure you that I will mobilize all necessary resources to ensure a complete evacuation."
Getting to the airport is a challenge
Access to Kabul Airport is proving a major challenge for foreigners fleeing Taliban occupation and vulnerable Afghans.
"We have more planes than people or passengers because the process of bringing and processing people, especially Afghans, to the airport is now a big, big challenge," he said.
– European countries step up –
The German armed forces have so far evacuated more than 1,600 people from the Afghan capital, German government spokesman Alec Demer said.
He added that a German citizen was shot and wounded on his way to the airport, although his life was not in danger and he would be expelled from Kabul soon.
The German government is planning to deploy two helicopters to support the evacuation, including "dangerous situations" or evacuating people from remote areas.
The UK said it had evacuated 1,615 people since Saturday, including 399 British nationals and their dependents, 320 embassy staff and 402 Afghans.
The government said a Spanish merchant plane carrying 110 people – mainly Afghans working for the Spanish embassy in Kabul and their families – arrived in Madrid on Friday afternoon.
But Defense Minister Margareta Rubles said on the radio on Friday that a family lost their daughter to public pressure when they boarded a plane, meaning "she stayed in Kabul."
The case showed that "the situation at Kabul Airport is just dramatic."
Spain's airbase in the Torjon de Arduino can accommodate about 1,000 people and will be a hub for Afghan refugees from EU member states.
Switzerland said it would send a plane to the Uzbek capital, Tashkent, on Saturday to bring back the Swiss and other evacuators from Kabul.
The State Department said it would provide 1.3 million anti-Kavid masks.
Italy said it had evacuated about 1,000 people while more were waiting at Kabul airport.
He said about 10,103 Afghanis were about to arrive at Rome's Femisino Airport on a charter flight from Kuwait on Friday night, provided by the Italian non-profit No Onlus.
Finland said on Thursday it had evacuated 34 people so far, with more Afghan local staff now inside the airport.
Denmark evacuated about 3,320 people from Kabul on Thursday, according to the Danish Ministry of Defense and Foreign Affairs.
Dutch Foreign Minister Sigrid Kag said a plane carrying about 180 people was due to arrive in the Netherlands at the end of Friday, without giving details of nationalities.
Kag said 700 Dutch citizens are still in Afghanistan who need evacuation. That number does not include Afghans who worked for the Netherlands and should be evacuated.
– Check 'demand' recalls flight
A Czech Army pilot returning from Kabul recalls how air traffic was barely controlled, there was no fuel and no takeoff as he fled the Afghan capital.
Only identified on the Czech Defense Ministry's website as "Major MM" who published his flight account, the pilot brought 62 people from Kabul to Prague on Wednesday.
The pilot, who joined the armed forces 20 years ago, said on Thursday, "I have done some unconventional flights, but the demand for the aircraft was even longer."
His Airbus had a Czech soldier, an Afghan spokesman and his family, as well as four Afghans, whose return was requested by neighboring Slovakia.
The United States says the Taliban are cooperating
The United States has evacuated about 7,000 people from Afghanistan since August 14 and said the Taliban were cooperating in efforts to evacuate Kabul airport.
Maj. Gen. Hank Taylor said Thursday that the evacuation has accelerated as the Taliban continue to block people trying to reach the airport.
Afghan footballer falls and dies
The country's sports authority said an Afghan footballer who played for the national youth team died after trying to grab a departing American plane.
He confirmed the death of Zaki Anwari at the airport.
– GoFundMe collects millions –
The GoFundMe campaign has raised more than 6 6 million to raise funds for the evacuation of 300 vulnerable Afghans fleeing the Taliban, according to figures released Thursday.
Tommy Marks, the creator of the fundraising page in New York, asked for funds to arrange flights for Afghans who are at risk of being targeted by the Taliban.