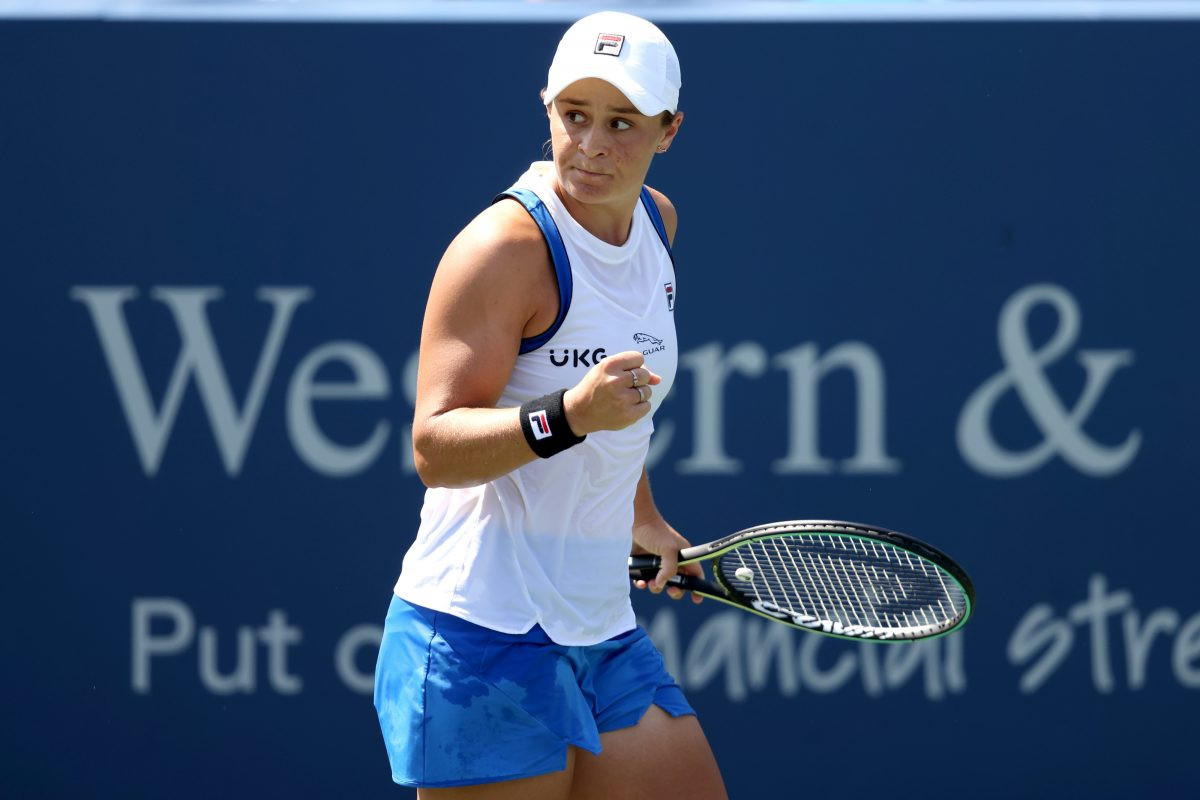 Cincinnati:

World number one Ashley Barty reached the sixth final of her season on Saturday, defeating Angelique Kerber 6-2, 7-5 in the ATP and WTA Cincinnati Masters.
Top-seeded Aussie, who has led the rankings for the past 82 weeks, needed an hour and a quarter to reach Sunday's title match, leaving the 2019 Ohio Hardcourt Tournament behind in its semi-final show.
Barty will play for the trophy against Swiss wildcard Jill Techman – who reached the fourth career final by defeating fifth seed Carolina Pliskova of the Czechs 6-2, 6-4 but reached the Elite Masters 1000 level. First.
He needed 84 minutes to continue a great week, beating Naomi Osaka in the third round and Olympic gold medalist compatriot Belinda Binsk in the quarters.
After removing fourth-ranked Pleskova, Tichman is 4-0 up against the top 10 players this season.
Looking at the biggest final of his career, the 24-year-old said, "Playing the center court against the world number one in the final … it's perfect."
Against Kerber, Barty extended his lead to 4-2 in the series among several Grand Slam winners as he won the Wimbledon semi-final last month.
Barty made a dozen aces and broke Kerber five times. Winning 39 matches this year puts him ahead of Arena Sabalinka in the WTA list.
To win the top seed, you need to adopt some strategy to see it.
The pair traded twice for a break in the second set, eventually giving Barty a decisive fifth break in the final game.
"It was frustrating for me, because I knew Angie was picking up (her game) and I needed to go with her," Barty said. "Not implementing the points when I arranged them the way I wanted was frustrating.
"I managed to regain that momentum immediately with the break, then it was a bit of a fight.
"I managed to put pressure on his game, but we both did a good job of getting out of some hard holes late in this second set.
"I had to accept that if I was going to miss, I would miss out on the right way. It was too big in the end."
"Eventually, she was defeated," Kerber said.
"She starts to play really aggressively, and I was just trying to find my rhythm," said the German.
"I tried to come back in the second set. I had chances, but he played very well in the crucial moments and blocked the way for the match.
"I'm very happy with my result this week. I'm getting good matches before going to New York (for the US Open)."
Barty's 29 winners outperformed Kerber's 16.
Australia also made 18 impractical mistakes in the 19th final of their career and the sixth best of the season.