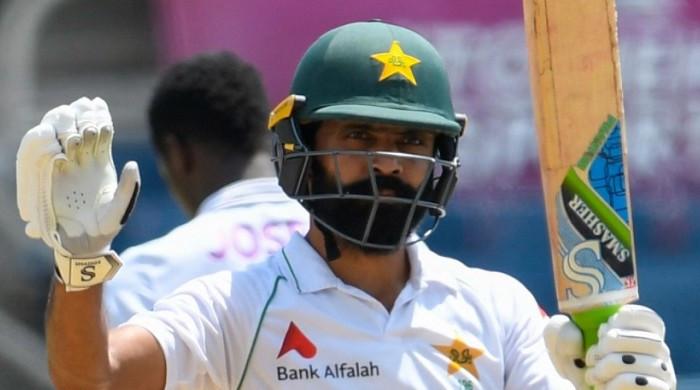 KINGSTON: Pakistani batsman Fawad Alam on Monday dedicated his Test century against the West Indies to his parents.
Talking to reporters, Fawad Alam revealed that his mother had predicted that he would score tons against the West Indies. "I dedicate today's century to my parents," said the passionate left-handed batsman.
"I spoke to my mother on the phone before the match," he added. He told me I would make a century.
Talking about the batting challenges in the second Test match, Alam said that neither the pitch nor the weather was favorable.
"It was very hot and humid," the batsman said.
On this occasion, Fawad Alam encouraged his father to move forward in spite of all difficulties.
"You always feel proud when you make a century for your country so I am very happy right now. My father has always been encouraging me. He told me to keep trying and my time will come and now That's it and I'm trying to make the most of it, "he said.
Fawad expressed happiness at scoring five centuries in equal countries. He said that Man in Green will try to get the West Indies out as soon as possible, adding that if the hosts get out on a very low score, then Pakistan will be in a position to win.
He also spoke briefly about his unique celebration, adding that it was inspired by the Turkish drama series Ertugrul.
Pakistan tops after Fawad Alam's century
The Green Shirts were hoping to level the series on the third day of the second rain-affected Test against the West Indies at Sabina Park on Sunday after Fawad Alam's fifth Test century and Shaheen Shah Afridi's new ball potential.
Fawad's unbeaten 124 reached 302 for nine in his first innings, while Shaheen quickly removed both openers and Faheem Ashraf bowled the home side to 39 for three in reply to the stumps.
Leading by one wicket at a thrilling end in the first Test at the same ground a week ago, Pakistan's attempt to win the series has been frustrated by rain and inadequate coverage of the game square.