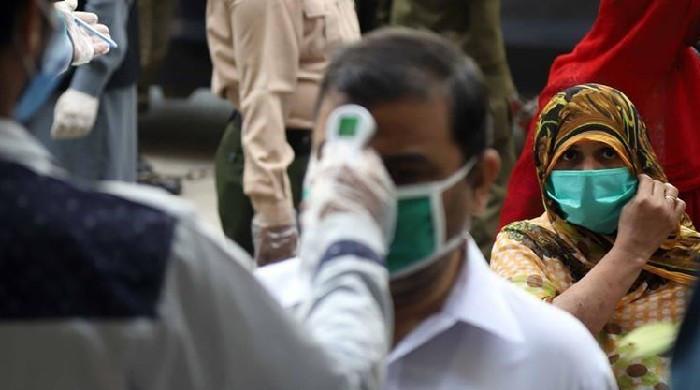 ISLAMABAD: The death toll from the corona virus in Pakistan has crossed 25,000 after 80 deaths were reported on Monday morning, according to the National and Command and Operations Center (NCOC).
With 80 recent deaths in the last 24 hours, the number of deaths from the virus in the country has risen to 25,003.
The latest figures from the NCOC show that 53,881 corona viruses were tested in the last 24 hours, of which 3,772 tested positive, bringing the total case load to 1,127,584.
The positive rate is now 7%.
The total number of cases in Pakistan is 1,127,584, 89,919 active cases, 1,012,662 recoveries and 25,003 deaths.
It is worth mentioning here that the infections of Covid 19 are decreasing in Pakistan, on an average 3, 3,628 new infections are reported every day. That's 62% of the peak – the daily average was reported on June 17.
Pakistan has so far given at least 46,456,077 doses of covid vaccine. Suppose each person needs 2 doses, which is enough to vaccinate about 7.7% of the country's population.
During the reported last week, an average of 59,594,775 doses are given daily in Pakistan. At this rate, it would take another 73 days to provide enough food for a further 10. population.
The Sindh government closed the school till further orders.
In view of the increasing cases of Code-19 in the province, Sindh has decided to keep schools closed for a long time on Sunday.
Earlier, the provincial government had announced that schools in Sindh would remain closed till August 30.
Sindh Chief Minister Syed Murad Ali Shah had said in a statement that teachers, staff and parents should be vaccinated before the schools reopen.
"After 10 days, it has been decided to reopen universities, colleges and schools. They will open on August 30.
Sindh Education Minister Sardar Shah had said that schools would be open with only 50 per cent students, while educational institutions with full vaccination rates would be allowed 100 per cent students.