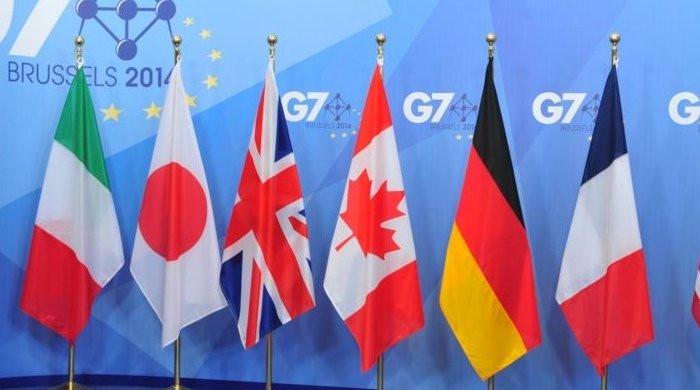 LONDON: Leaders of the G7 countries held an emergency meeting on Tuesday to discuss the ongoing situation in Afghanistan and said the Taliban were "accountable for their efforts to protect women's rights and prevent terrorism." Will be stopped. "
"We reaffirm the Taliban's commitment to preventing terrorism, human rights, especially against women, girls and minorities, and for a comprehensive political settlement in Afghanistan," Downing Street said in a statement. Will be responsible for British Prime Minister Boris Johnson convened the meeting.
The G7 agreed that a "safe passage" was a must for those fleeing Afghanistan.
Johnson said he and his colleagues had agreed on a "roadmap for dialogue with the Taliban in the future."
But he added that the "number one condition" is "to guarantee August 31 and beyond" is a safe way for those who want to come out.
Britain, chairing emergency talks between a group of rich nations on Tuesday, said it would urge Biden to extend the August 31 deadline for withdrawing US troops from Afghanistan.
France also demanded that Washington push back the timeline.
However, Biden decided after the G7 talks that he would stick to the deadline.
British Defense Secretary Ben Wallace said early Tuesday that the withdrawal from Afghanistan was unlikely to take place beyond August 31.
On Monday, a Taliban spokesman warned that the group would not agree to any extension, calling the issue a "red line" and the delay would be seen as an "extension of occupation."
Taliban spokesman Sohail Shaheen told Sky News, "If the United States or Britain asks for more time to continue the evacuation – there is no answer. Or there will be consequences."
The next step.
As Britain continues to expel Westerners and some Afghans from the capital, Wallace warns that the security situation is becoming "more and more dangerous" as August 31 approaches.
The defense ministry said Britain had evacuated 8,458 people since August 13, with nine military flights departing from Kabul in the past 24 hours.
More than half-5,171 Afghans are eligible to move to the UK under the program, which has helped their military and civilian officials during their two-decade involvement in Afghanistan.
The Home Office has confirmed that an individual on the UK's anti-terrorism watch list has been evacuated.
A spokesman said the man had been identified "as part of a strict check process" and was not considered a "person of interest to security agencies or law enforcement" after further investigation.
The UK is currently chairing the G7, which includes Canada, France, Germany, Italy, Japan and the United States.