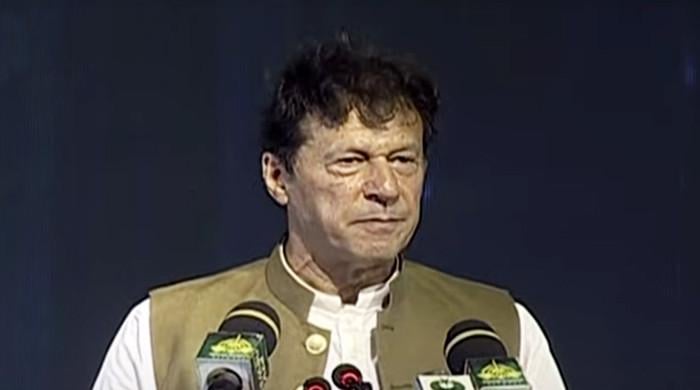 Prime Minister Imran Khan on Wednesday said that the Minar Pakistan incident – in which hundreds of men attacked a woman on the occasion of Independence Day – was a disgrace to Pakistan.
The Minar Pakistan incident, I was embarrassed when I saw it, I was upset to see it. [in Pakistan] When I was growing up, "Prime Minister Imran Khan said at a function in Lahore.
The Prime Minister said that he has traveled all over the world, and when he was growing up, he saw that Pakistanis respect women more than the Western world.
"The reason we are witnessing the decline is that our children are not being educated properly. It is not part of our culture or our religion," he said. Greater Iqbal Park, Lahore on August 14
The prime minister said "sex crimes" were on the rise in Pakistan, and blamed the negative aspects of mobile phone use. "In human history, we have never seen anything like what children have today," he said.
"There is only one way to prevent such incidents," he noted. "Children should be taught about the life of the Prophet of Islam," he said, adding that he was "a great man, whose choice will never be seen again."
The Prime Minister said that people read about successful people to know the secrets of their success – and no one in history is as successful as the Prophet Muhammad. "That is why we are told in the Qur'an to learn from his life."
"[The children must be taught] How did he bring about the historic revolution? What were its strengths? The Prime Minister said how honest and trustworthy he was – and how no one became a great leader without these qualities.
The Prime Minister said that Quaid-e-Azam Muhammad Ali Jinnah and former President of the Republic of South Africa Nelson Mandela were also considered honest and trustworthy by their rivals.
"So these qualities, which made it so good, should be taught to our children in schools.
The Prime Minister said, "And so what is being taught about modern technology – which we have envisioned for 8th, 9th and 10th grades – must also be implemented. Implement both of these things in the school curriculum. Will be."
The Prime Minister lauded Punjab Education Minister Murad Rass for initiating the "passion" for the field of education and the implementation of the Single National Curriculum (SNC) in the province.
"Passion is something that beats talent in many areas," he said.
"And when we see passion in a chief minister or [other minister], We return to the ministry. Because we can see that person is working wholeheartedly. "
He hopes that in the next two years, Ross will be able to fully implement the new curriculum and "raise the standard of public schools."
Prime Minister Imran Khan noted that private schools are "doing a great job", but a family sends their children there if they have the money.
"Our real potential in Pakistan is found in most government schools," he added.
The Prime Minister lauded Punjab Chief Minister Usman Bazdar for his work in the province. "Past governments did very little, but their horns did not end there."
The Prime Minister criticized the previous governments for not paying attention to education and development. A military dictator built two dams, a task that Democrats were unable to accomplish.
He also criticized his predecessors for not thinking about future generations and for harming the country's development with "short-term planning".
Even the forests left by the British were destroyed.
Talking about education, he said that when the country got independence, a uniform curriculum should have been implemented as it is now divided in the sector.
"Three different curricula were introduced, and we mentally became slaves to the British. And when a nation becomes a cultural slave, it cannot develop."
The Prime Minister lamented that there were only a few good schools that were accessible only to the elite. "Gradually, we saw the decline of public schools and the rise of private schools."