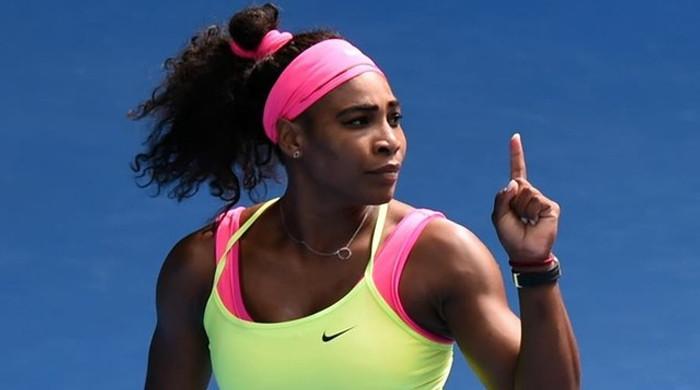 PARIS: Serena Williams achieved another record-breaking 24th Grand Slam title on Wednesday when she announced on her Instagram page that she was withdrawing from the US Open next week due to a hamstring injury.
The 39-year-old American wrote, "After careful consideration and following the advice of my doctors and medical team, I have decided to withdraw from the US Open so that my body can fully recover from a ruptured hamstring." "
"New York is one of the most exciting cities in the world and one of my favorite places to play. See you then."
Williams, who did not play after being knocked out of the first round at Wimbledon when she walked off the court in the first set against Alexandra Sasnovich, is a six-time winner in New York.
She missed last week's event in Cincinnati to be fit for Flushing Meadows and said she hoped to "return to court soon" but her hamstring did not recover in time. She was very disappointed.
"We took medical advice and the medical advice was clear – you take a big risk if you play," his coach Patrick Muratoglu told the Tennis Majors website.
"Then we had to talk a little bit as a team. Serena always feels like she's giving up if she doesn't play. It's inside her.
"We had to give a little reason, but anyway, it was a big part of the medical advice. In that sense, it was a team decision."
'Race against the clock'
The resignation is the latest blow to a woman who has dominated women's tennis since making her first major at the US Open in 1999 as a teenager and is considered by many to be the greatest female player ever. Let's see.
The problem for Williams, who turns 40 in September, is that Margaret Court's goal of equaling the all-time record of 24 Grand Slam singles titles seems farther than ever.
Back in 2017, when she won the Australian Open and tried to get inside one of the controversial court tails, she found it difficult to get much more.
Even after making time for her daughter Olympia this year, she was expected to dominate the horizon with a few potential rivals.
Since then, however, it has been a story of regression in terms of reaching the final four.
Last year, although Wimbledon was not affected by the Corona virus epidemic, her fortunes were even lower as she failed to reach the Grand Slam final for the first time since 2006, which she won in 2021. Will repeat
Muratoglu insisted it was only a matter of time before Williams, ranked 22nd, returned to the courts.
He said it would have been possible if the US Open had been held in three weeks instead of next week.
"You have a new contract in tennis, which means the champions can play for a maximum of 35 years thanks to their unparalleled professionalism.
The same can be said for three other former US Open champions who withdrew from the men's draw.
Four-time winner Rafael Nadal, 35, has resigned due to an injury to his left foot that left him in trouble after losing in the semi-finals of the French Open in June.
Meanwhile, Roger Federer, 40, who won five US Open titles in 2008, said he needed more knee surgery and admitted he would be out for several months.
Dominic Theme, the 2020 men's champion who is still only 27 years old, will be missing after failing to recover from a wrist injury.