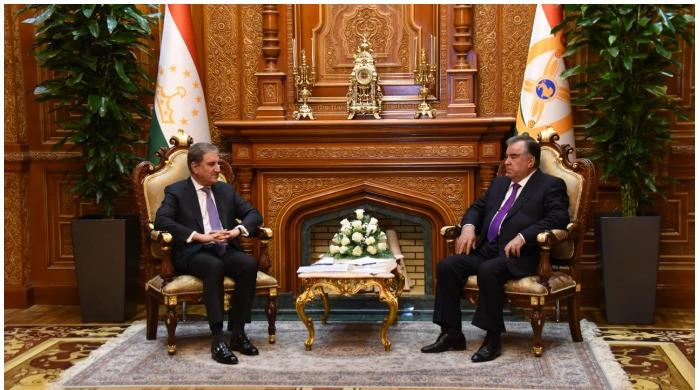 DUSHANBE: Tajik President Emomali Rakhmon on Wednesday endorsed Pakistan's proposal to address the situation in Afghanistan in a coordinated manner to achieve common goals of peace and stability in the neighboring country.
The development came as Foreign Minister Shah Mehmood Qureshi met with the Tajik president on the current situation in Afghanistan.
"President Emomali welcomed the Foreign Minister and agreed on a coherent approach to the emerging situation in Afghanistan," the Foreign Office said.
Regarding regional security, the Foreign Minister shared Pakistan's views on the latest situation in Afghanistan.
Stressing that both Pakistan and Tajikistan would greatly benefit from a peaceful and stable Afghanistan in terms of economic co-operation and co-ordination, he emphasized the importance of a cohesive approach to achieving the common goals of a "cohesive region". Given
The Foreign Minister congratulated Prime Minister Imran Khan and reiterated Pakistan's commitment to strengthening relations with Tajikistan in all areas of mutual interest.
President Imam Ali said he was looking forward to receiving Prime Minister Imran Khan at the SCO Summit in Dushanbe in September 2021.
Earlier, Qureshi and his Tajik counterpart, Sirajuddin Mohaddin, reviewed the latest developments in Afghanistan.
Foreign Minister Qureshi briefed his Tajik counterpart on Pakistan's policy of supporting a comprehensive political solution in Afghanistan and expressed hope that Afghan leaders would find a workable solution.
He also stressed the importance of continued international engagement as a shared responsibility.
FM Muhriddin praised Pakistan's move to reach out to Afghanistan's neighbors for a coherent approach.
During the meeting, the two Foreign Ministers welcomed the ongoing high-level talks which further strengthened the bilateral relations and created common views on issues of mutual interest.
FM reaches Uzbekistan
Later, FM Qureshi left for Tashkent, the capital of Uzbekistan, on the second leg of his four-nation tour to exchange views with the leadership on the deteriorating situation in Afghanistan.
FM was received at the Tashkent International Airport by Uzbek Deputy Foreign Minister Farkat Saldikov, while Pakistan's Ambassador to Uzbekistan Syed Ali Asad Gilani and senior embassy officials were also present.
Foreign Minister Qureshi met with his Uzbek counterpart Abdulaziz Kamilov.
The meeting focused on bilateral relations between Pakistan and Uzbekistan, promotion of bilateral cooperation in areas of mutual interest and the deteriorating situation in Afghanistan.
The Foreign Minister's visit is part of the government's efforts to work on a coherent and integrated strategy with regional countries to address the situation in Afghanistan.