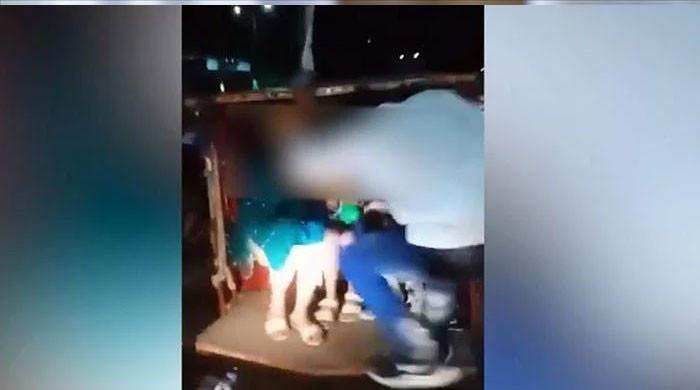 LAHORE: Police on Wednesday claimed to have arrested two more accused in the Lahore Changchi rickshaw harassment case.
A video of a man harassing a woman in a Changchi rickshaw on Lahore's Circular Road on Independence Day went viral on social media, sparking outrage from various sections of society.
Lahore police said that CIA Ghaziabad has arrested two more accused in the case from Nankana Sahib. A total of four suspects have been arrested so far for harassing the woman.
Police officials said the videos obtained from the two suspects were sent for forensic analysis.
Man arrested for making rickshaw harassment video
Earlier on August 23, Punjab police arrested a man who had filmed a viral video of a woman being sexually harassed inside a rickshaw on the occasion of Independence Day.
Dr Shahbaz Gul, Special Assistant to the Prime Minister for Political Communications, confirmed on Twitter that police had arrested the video recorder and were questioning him.
A man jumped on a rickshaw to harass the girl
Two women can be seen in a video clip sitting behind a rickshaw on Lahore's Circular Road. A couple of motorcyclists saw the women grabbing the rickshaw, calling to them, and jumping on them.
As shown in the video, a man jumped on a rickshaw, out of nowhere, and forcibly kissed the woman. Surprised, he and the woman with him shouted, but no one intervened.
A woman took off his slippers and threatened to kill the motorcyclist. The harassed woman, on one occasion, was very upset and in desperation tried to leave the rickshaw but her partner stopped her from doing so.
Police registered a case.
After the video went viral on social media, a case was registered at the Lari Ada police station on a complaint by the Station House Officer (SHO), after the video of the incident was shown to the police.
The FIR estimates that 10-12 "morally unrestrained" men on motorcycles harassed two women on a rickshaw, with a child sitting between them.
The lawsuit is filed under section 354, 509 (ii) (word, gesture or act intended to insult a woman's decency), 147 (punishment for rioting), and 149 (every member of an illegal assembly is a common item Convicted of the offense of committing a trial) Penal Code.
Case of harassment of women.
Meanwhile, the identification parade of 104 accused arrested in the Greater Iqbal Park harassment case will be held on August 28.
A Lahore court has ordered the district superintendent to complete the arrangements for the identity parade.
Tuck talk star Ayesha Akram will identify the accused in the camp jail on August 28.