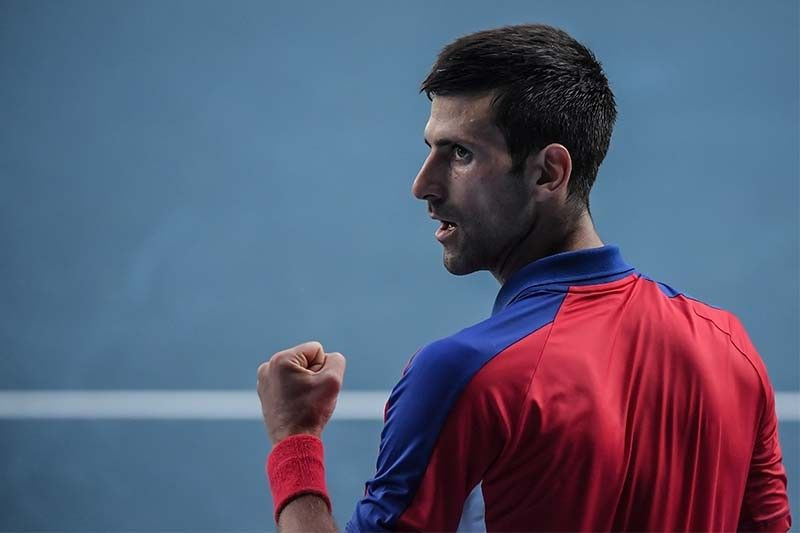 New York:

Top-ranked Novak Djokovic will try to complete the first calendar airman singles grand slam since 1969 and become the all-time men's leader in the slam title by capturing the US Open.
The five-time champions will not be on the field when the showdown begins on New York's hard courts on Monday, with Roger Federer, Rafael Nadal, Stan Wawrinka, Juan Martin del Potro and 2020 winner Dominic Theme all out injured. Were present
Djokovic's 21st career leaves a major obstacle in the way of Salim Taj as 20 talents grow and try to make their own trophy – Russia's Daniel Medvedev, Russia's No. 2, Greece's Stephanos Tsitsipas, No. 3 and Germany's No. 4 Olympic champion. K. Alexander Zverev.
Djokovic's amazing 2021 run had its roots in last year's US Open, where he was knocked out of the tournament against Carino Busta in the fourth round when he hit a ball and accidentally hit a line official in the neck. ۔
The 34-year-old Serbian star has not missed a Grand Slam match this year, beating Medvedev in the Australian Open final, Setsipas in the French Open final and Matteo Beretini of Italy in the Wimbledon final.
"It's really lucky and unbelievable for me that they're all coming together in one year," Djokovic said. "It's something I didn't expect, but I always dream of achieving the greatest things in the game."
He is striving for the calendar year men's slim feat, which was managed only by the Australian Rod Lever in 1962 and 1969 and the American Don Buzz in 1938.
Nadal said what he has achieved this year is amazing. "I'm sure he can do it without a doubt."
Djokovic briefly won all four slam titles, finishing fourth in a row at the 2016 French Open and completing his career grand slam.
In his career, Djokovic has won nine Australian Open, six Wimbledon crowns, two French Open and the 2011, 2015 and 2018 US Open.
He has been world number one for more than 335 weeks, and came to the US Open after not losing to Spain's Pablo Carina Bosto after winning an Olympic bronze medal.
Nadal, who shares the men's record in the 20th Slam title with Federer and Djokovic, sees no reason why the Serbian star will not end what he started.
"Well, he's already won three. So when you win three, you can no doubt win four, no? He did 75 the way he did. He'll play on the hard court, maybe his best level. "Why not?" Said Nadal.
Federer, Nadal and Djokovic's "Big Three" have won 60 of the last 72 major teams since Federer's first victory at Wimbledon in 2003, but six of the 12 wins by others at the US Open. Have come
US Open 2019 runner-up Medvedev, who won the Tune Up title in Toronto, sees Djokovic as a clear favorite.
"Novak is definitely going to be the biggest contender," Medvedev said. "He has already won 20. He has experience. So he's a man under pressure, but I think he likes it.
"I'm going to do my best. If I manage to maintain the level I'm playing now, I have a good chance of going too far. I just want to play well."
Tsitsipas is proud of its ranking and is in the final of the Roland Garros.
"Three is a number that's very important," Tsitsipas said. "I wouldn't say it's under pressure, but it definitely adds to the value of your efforts. It puts a lot of pressure on me to keep it up, I want to make the extra mile. "
Last year's US Open runner-up, Xavier won his last major tune-up title at Cincinnati and won a gold medal, continuing his 12-match winning streak ahead of Flushing Meadows in a fortnight.
"I'm very hungry. I'm not satisfied yet," Zverev said. "I'm looking forward to … proving that I'm still one of the best players."