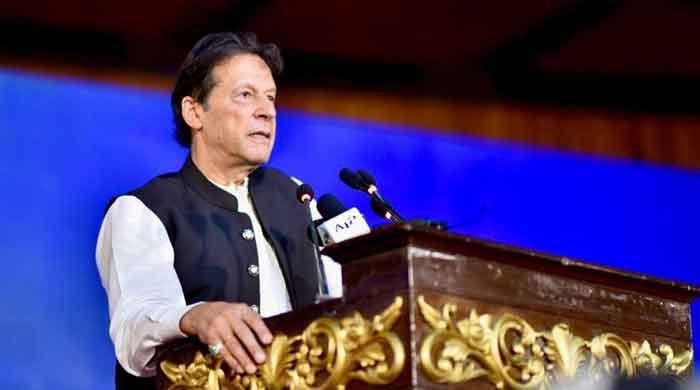 Prime Minister Imran Khan on Thursday called on the international community to help end the decades-long conflict in Afghanistan and bring peace to the people there.
"The world must do its best to bring peace to Afghanistan. There have been conflicts for 40 years. Their people have faced such hardships.
"Now is the time for the world to help bring peace to Afghanistan," he said.
"The Taliban are trying to reach a comprehensive political settlement, which we wanted from them in the Doha talks. They are talking about human rights and a general amnesty. They have pledged that they will The country will not allow it to be used against others, and that is what the world wanted, "he said.
Prime Minister Imran Khan said that the Afghan nation is a "brave nation, fearless and fighting nation".
If not, we must remember that one million Afghans were martyred fighting the Soviets.
"So we have to consider this: why didn't they fight? The Taliban were only 70,000 strong. And the army was 300,000, armed and equipped with tanks. Why didn't they fight?"
"No one fights for a corrupt government," he said.
The Prime Minister said that Afghans have a "psychology" under which any foreign power tries to influence the country, the nation stands against them. "They fight for their freedom."
"So they will never fight for a Western-backed government."
Since the party came to power in 2018, the PTI has released a 256-page performance report.
The Prime Minister thanked his entire team and his allies – PML-Q, BAP and MQM, GDA who have stood by the party for the last three years.
Earlier, while welcoming the audience at the function, he especially congratulated the newly elected representatives of the Government of Azad Jammu and Kashmir.
He replied: "I was watching Faisal Javed Khan. He is always very excited. Whenever he gets a mic, he never lets him go, like in our meeting days."
The Prime Minister also lauded the skill of Sindh Governor Imran Ismail in composing PTI anthems and said that it could cast a huge shadow over his performance as Governor. Ismail had previously sung "Change I Re" at the event, as well as singing "Who Taken Me Out".
Performances were also given by Ataullah Khan Issa Khilvi and Abrar-ul-Haq. In addition, several video clips were played which show the struggle of PTI and Imran Khan for years.
We should never be afraid of difficult times
When Prime Minister Imran Khan spoke, he highlighted the importance of youth, saying that we pray to God to put us on the path of blessings, not destruction, the path of the Prophet.
"God has already shown us the way if we want to be great."
The prime minister recalled how he was ridiculed in the early days of the party, but said he kept focusing on one thing: how the Prophet (peace be upon him) saw such a difficult time but remained determined.
"We should never be afraid of such a time. Yes, it is a difficult time (for Pakistan), but we should not panic."
"The ups and downs of life prepare you (for greatness)," he said.
Addressing the youth, he said: "Never think that life is easy. If it is easy, it means you have no status."
"Whoever stands on the right path faces difficulties. All the messengers of Allah face difficulties. And this is the path we believe in."
"But people want an easy way and at the same time find a way to be blessed. […] You should never cry at such times.
"If you understand and analyze such things correctly, you will see that the difficult path is the path to your success," he said.
The Prime Minister added: "No one succeeds without failure. It is impossible for anyone to get on his feet alone."
"No one has become a leader with shortcuts. Look at the struggle of Quaid-e-Azam. If there is one leader I believe in, it is him.
"The way he struggled in the end, especially during his illness. He didn't do it for his own benefit, he did it for a bigger cause. And that's why people will continue to appreciate him." "
The prime minister said the last three years had been spent with "great difficulty" after the rulers of the past inherited a bankrupt country.
"We had reserves. [low], Our responsibilities [high]. We did not have the money to pay back our debts. We were not going to default, we were in the process of default, because we had no foreign exchange.
In difficult times, Saudi Arabia, the United Arab Emirates and China helped, Prime Minister Imran Khan added, adding that without their help, the rupee would have fallen further.
He also spoke about other challenges: the Corona virus crisis, and the Pulwama incident that preceded it.
'Thanks to Pakistan Army'
"I thank God, we have the armed forces that we do. When. [India] Bombed us in the middle of the night, I realized then that if we did not have the kind of army on which we rely so much, what would we do in the face of such a powerful opponent?
And this mafia that made speeches against our army. […] I have also spoken out against the army in the past. […] Everyone makes mistakes, but the goal is not to discredit them.
"They are behind the army because they want to overthrow the government. You call yourself a democratic government and want to overthrow a democratic government?" He criticized India
The Indian lobby is trying its best to discredit the Pakistan Army. […] And it has been going on for some time, "said the Prime Minister.
He said it was because of the country's confidence in Pakistan's military that it had brazenly told the Modi government that if they tried to do something, Pakistan would respond appropriately.
The Prime Minister also spoke of the 480 drone strikes in Pakistan when he partnered with the United States in the war on terror.
He said that the heirs of those killed in US drone strikes would then take revenge against Pakistan.
The Prime Minister vowed that Pakistan would never make any sacrifice for any other country.
Economic achievements.
Prime Minister Imran Khan said that showing all the above trends along with all the major economic indicators, the present government has put the country's economy on the right track in the last three years despite various challenges including the Cove 19 epidemic.
The Prime Minister said that when PTI came to power, the current account deficit was ارب 20 billion and now, three years later, it is 1. 1.8 billion.
He said that foreign exchange reserves increased from 16 16.4 billion to 27 27 billion, revenue collection increased from Rs. 3,800 billion to Rs. 4700 billion and remittances from workers increased from 19 19.9 billion to 29 29.4 billion.
He said that during the three-year rule of PTI, a record number of motorcycles, cars and tractors were sold.
He said that these figures do not belong to Ishaq Dar.
He said that after 10 years, Pakistan's industries have picked up and the cement industry has seen a 42% increase in sales.
PM Imran Khan said that during 10 years of PML-N, Punjab Anti-Corruption Establishment had collected Rs 2.5 billion, in last three years PTI government had collected Rs 450 billion through Punjab ACE. Of
Social measures.
The Prime Minister said that PTI is the first government which has decided to uplift the lower strata of the society and in this spirit it has started programs which have never been seen before in Pakistan.
He said that Ehsas program, PTI's flagship program used to provide Rs. 110 billion for poverty alleviation and now Rs. 260 billion has been allocated for this purpose.
Prime Minister Imran Khan spoke of interest-free loans for 4 million deserving families and a Kisan card for subsidies for farmers, which he said would now be introduced in Gilgit-Baltistan after its introduction in Punjab.
He said that 10 dams would be constructed and Diamer Bhasha Dam would be completed in 2025.
The Prime Minister also highlighted the Single National Curriculum, which has started in Punjab and will soon offer a course on Sira-un-Nabi for grades 8, 9 and 10, so that students can learn about the life of the Holy Prophet. To be taught.
He said that Rs. 1400 billion has been announced for the backward areas of Sindh and Balochistan – 14 districts of Sindh and 8 districts of Balochistan.
Prime Minister Imran Khan said the world was raising its voice on the fate of women in the Taliban era, but said it raised the question: "Has any foreign power ever come to a country and given rights to its citizens?" Sure? "
"These are women themselves who have ever had their rights. Our women have the power to get their rights. We just need to empower them with education.
Prime Minister Imran Khan said, "In England or in the West, has any foreign power ever won women's rights? They have worked hard to protect their rights. And our government has paid a lot of attention to that. "
He further explained how it has been made easy to get succession certificate through NADRA. "The biggest benefit is that we are ensuring inheritance laws that give women a share in inheritance."