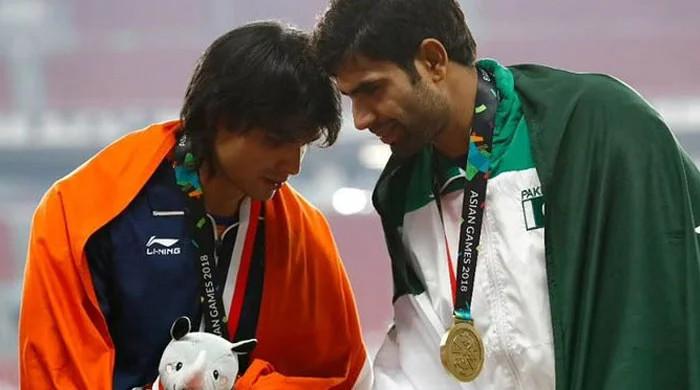 Arshad Nadeem – who competed in the final of the men's javelin throw event at the Tokyo Olympics – reacted to the ongoing controversy over Neeraj Chopra's spear.
Talking to Geo News, the Pakistani Olympian said that it was not a big deal for Neeraj Chopra to take a spear from him.
Earlier, a video was circulated on social media in which Neeraj Chopra could be seen taking his spear from Arshad Nadeem before the final match.
While Nadeem confirmed that Chopra had taken a spear from him during the final, he added that such things are common during competitions.
"It's possible that it was Neeraj's favorite birch during practice, which is why he took it from me. These things are very common during competitions."
In an interview with an Indian publication, the javelin throw winner Chopra said that he could not find his spear before his first throw during the competition.
He said he was looking for his spear when he saw Nadeem holding it. Chopra then rushed to Nadeem and asked for his pot.
As soon as the video went viral, Netizen started speculating on the intentions of the Pakistani players. However, Chopra was quick to dispel any misunderstandings.
On his official Twitter handle, the athlete urged people to refrain from promoting "interests and propaganda".
He tweeted, "I urge everyone not to use me and my comments to further their personal interests and propaganda."
Chopra added, "Sport teaches us to live together. I am very disappointed to see some reaction from the public to my recent comments.
On August 8, Pakistan's star athlete Arshad Nadeem lost a medal in the javelin throw final of the Tokyo Olympics, however, the athlete won the nation with the same passion and determination throughout the competition.
More about Arshad.
Arshad is Pakistan's national javelin throw champion, undefeated since 2015. However, it has broken its national record seven times in the last six years.
Nadeem finished fifth in the javelin throw at the 2020 Tokyo Olympics, while India's Neeraj Chopra won the gold medal.
He became the first Pakistani athlete to qualify for the final of any track and field event at the Olympics and made history in the world event.
Nadeem's ranking came fourth in the points table at one point in the competition but he soon overtook his rivals.
During the final round, Nadeem made 82.91m in his first attempt and threw 81.98m in the second. But his last throw to get to the fifth position was declared wrong.