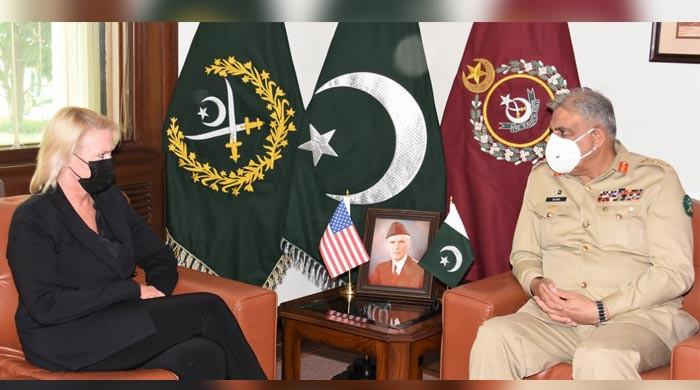 In a detailed discussion with a US envoy on the situation in Afghanistan on Friday, Chief of Army Staff (COAS) General Qamar Javed Bajwa stressed that Pakistan has no favorites in Kabul.
The Army Chief met with Angela Egler, the US in-charge of Pakistan, at the GHQ, Inter-Services Public Relations (ISPR) said.
Issues of mutual interest, regional security and the current situation in Afghanistan were discussed in detail during the meeting.
"Pakistan has no favorites in Afghanistan and our only goal is to help achieve a peaceful, independent, stable and prosperous Afghanistan," the army chief told the US ambassador.
Strongly condemning the terrorist attacks on Kabul Airport and expressing sorrow over the loss of precious lives, he reiterated the joint commitment to fight terrorism and extremism.
The guest of honor appreciated Pakistan's efforts in promoting regional peace and stability and thanked the Army Chief for his special assistance in the evacuation operations from Kabul.
Earlier in the day, Director General of Inter-Services Public Relations (ISPR) Maj. Gen. Babar Iftikhar also addressed a keynote press briefing on the issue of Afghanistan, saying "something can happen" on the Pakistan-Afghanistan border. But "we are ready for any situation.
Talking about the situation on the Pak-Afghan border from a military point of view, he said that the ground situation in Afghanistan has changed rapidly – contrary to all expectations, with regard to the rapid occupation of the country by Taliban forces. I happened Entering Kabul on August 15.