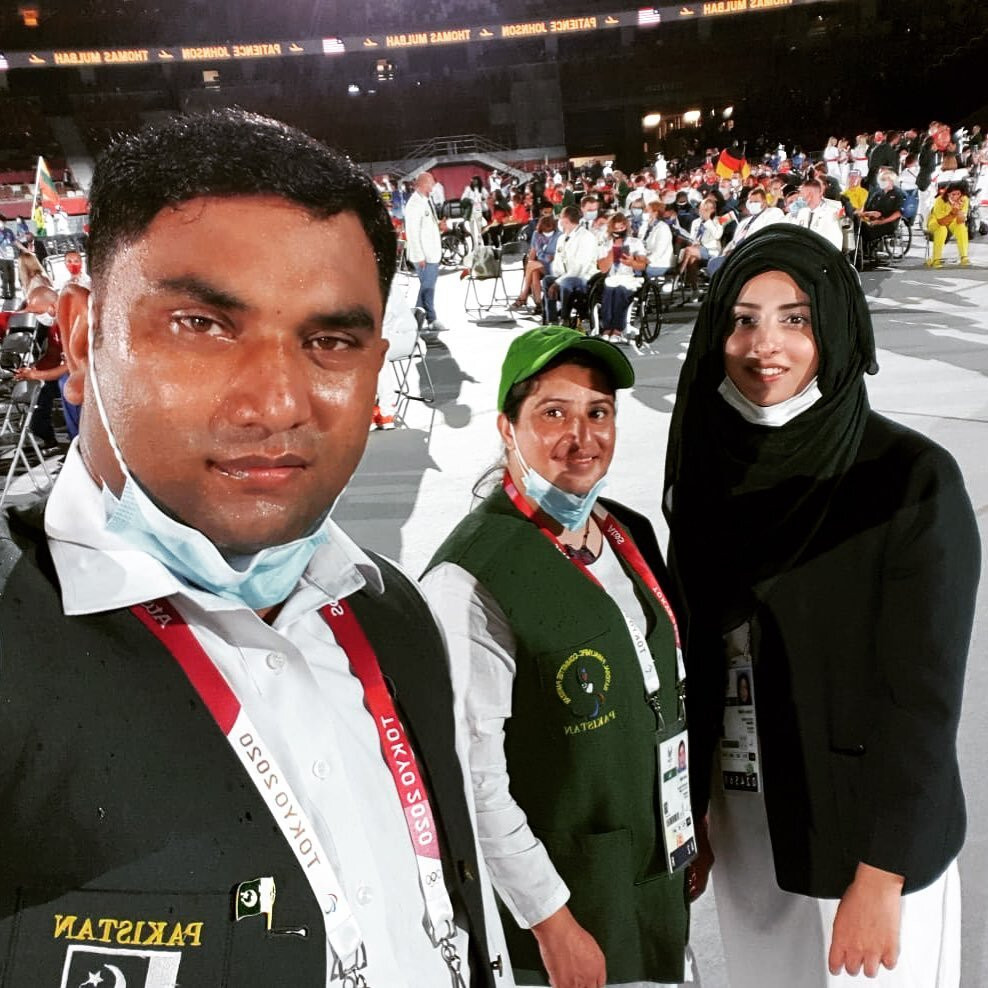 Karachi:

"My biggest goal here in Tokyo is to win a medal" as an athlete, but to be Pakistani and female.
Anila is one of the two Paralympians representing Pakistan at the Tokyo Paralympics.
Anila will take part in her discus throw event in the F64 category on Sunday morning according to Pakistan time.
The Faisalabad-based Paralympian feels that so far training in Tokyo, since the arrival of the three-member squad for the Games, has been going well, but his thoughts are full of gratitude and concern for the future at the same time. Are happy
"We're training here in Tokyo, and it's been great," Anila told the Express Tribune. I am very grateful to the National Paralympic Committee of Pakistan (NPC) for really helping us. I am here because of them.
He is in Tokyo with Pakistani Paralympic legend Haider Ali, who became the first and only Pakistani to win a medal at the Paralympic Summer Games (Silver) in 2008 and then in Rio in 2016.
Anila is making her debut at the Paralympics, and she qualified for it in 2019 through an event in Dubai. Meanwhile, he clearly remembers his journey, what it means to represent Pakistan and how he became an athlete.
"I started participating in sports when I was in school, Government Girls High School, and there were my teammates and coach Mudassar Baig. He told me that if I was really interested in sports, I would go to NPC. I contacted them and that's how my journey started. They guided me and back in 2009, I came to Tokyo for an event. Now I'm here again and it feels unreal. , But it's encouraging that I can win a medal here again, as I did before.
Anila is an inspiring person. The 26-year-old contracted polio when she was just seven months old. Before playing sports at school, she says she first had to please her father and siblings.
"I talked to my family about it. At first there was some resistance but then they started supporting me. I talked to my father and then my brothers and I explained that I really cared about it. Be excited
She said that when she was young, she saw other girls participating in sports and playing sports and because of that she also wanted to play. Soon, after participating in national events, sports became his obsession.
Anila is an enthusiastic young woman, she works as a folder in a textile factory, where she needs to stand for hours, a job that requires her to make money. But that's also because he had barely a few days to train for the Tokyo Games.
Training is a challenge in itself because she has time when she returns from her daily job, but that doesn't stop her from dreaming. She keeps her spirits alive and strong, encouraging her in spite of impossible situations.
"It simply came to our notice then. Coved was 19, but then the camp started late due to lack of resources. We trained for 10 days, mostly in the event, for a few hours. Some of this happened in Faisalabad and then in Lahore. Then I also had to make sure I gave extra training, because I also have a job where I have to stand for hours. I work folding in a textile factory. I've been in this job for a year, so there are a lot of challenges, "said Anila." My job is very difficult, it's all very difficult. "
But she wants to appeal to the government of Pakistan to look at the achievements of para-athletes and focus on the betterment of the community.
"[Government should] NPC support He has been working with us. Support them We don't have the funds so this is my only appeal.
He said that the government does not see the problems. They just follow the hype, but in reality they need to solve the problems we face. We need your attention, investment and support, "said Anila.
Sending Anila and Haider to Tokyo was also a challenge for the NPC as their tickets arrived a few days ahead of their flight schedule, all due to lack of funds and lack of institutional support to the NPC. Were
Girls need to play, move on.
Anila is fighting a battle that is bigger than most people think, and social norms make it even tougher.
As far as society is concerned, they don't see girls playing sports as a good thing. People look down on her, "Anila said, sharing her experience." They want us to stay home, they want us to get married, but I just want to say that if girls want their parents It will be easier if there is cooperation. Women need to get ahead in sports. I want to ask the government to look at our problems and solve them, for our better future.
She thinks she can get a good medal chance in Tokyo but when it comes to her favorite athletes, she mentions Shoaib Akhtar. However, she also acknowledges her two coaches, Mudassar and Akbar, who have encouraged her to perform better in sports.