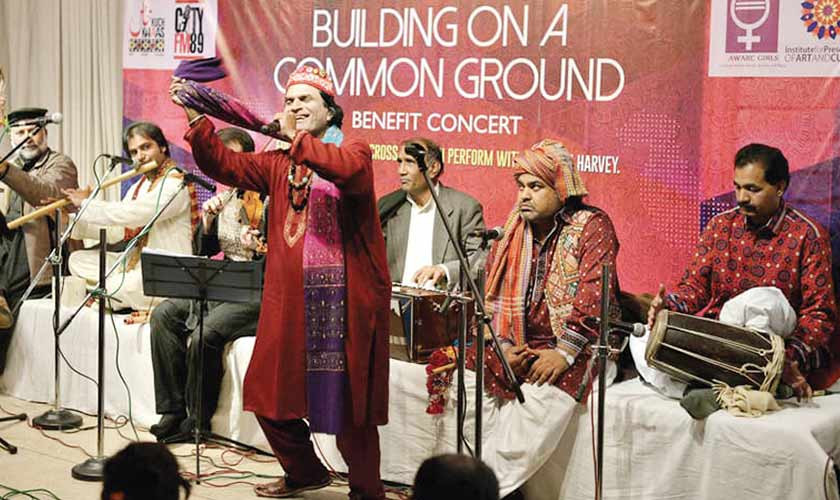 س۔Citizen Niazi's talent was completely hidden by his brother: Tufail Niazi, who had a lot of gifts. Both appeared in the inaugural program of the music when Pakistan Television was launched in Lahore in 1964.
His death is an opportunity to remember the family's involvement in music. Tufail Niazi's sons Babar and Javed are also singing to keep the family tradition alive. All of them have made significant contributions to music, especially popular music or folk music, without compromising on standards. Kurban is probably facing stiff competition from his brother نعت خوانی And was one of the prominent exhibitors in the area. He was later awarded Sitara-e-Imtiaz by the Government of Pakistan.
In the family of musicians, it is generally assumed that everyone, especially men, will achieve a certain standard. This is great for a few people, and really want to create something for themselves that is original and creative, separate from repetition and just re-creating the melody.
Both Qurban and Tufail were born in a village near Jalandhar. Both were children of a tribe who were skilled in playing sports. پاکواج, But Tufail did not limit himself to any gender or specialization. He set out in search of a more contemporary expression that was ironic to the division of the subcontinent.
After the partition of India and the consequent migration, the social attitude of the whole music changed. As Muslims, the Niazi family chose to emigrate to Pakistan, and had to find new patrons and perform for an audience that was very diverse and due to a number of factors, including the growing media influence. Numerous cultural influences.
The number of prefixes and suffixes of Tufail's name is a reflection of the migration of the population and the changing tastes that the artists had to adapt to. He was only Tufail Multani when the family migrated to Multan and stayed there for some time. Before he became famous, he was just a parasite. Then he became Master Tufail. He performed solo and then in a group and made his name when he formed his own drama group. He traveled from village to village, Fair To Fair, Wedding To Wedding And in the rural circuit, Master Tufail was better known than the urban audience, which was rapidly becoming more and more global film music.
Tufail Niazi was not a Pathan. Niazi was named after Pir Niaz Ali Shah who was his patron saint. The story is that on the occasion of the inauguration of Pakistan Television in Lahore in 1964, when he was preparing to sing the number one song on the network, Aslam Azhar asked his full name. He called himself Tufail Multani but at the suggestion of Aslam Azhar changed it to a symbolic tribute to his patron saint.
In Pakistan, with. Sports The population of the new country, especially the newly educated urban classes, popular forms of music, especially folk music, were widely heard and patronized. There is something about folk music that is probably more textual and lends itself easily to listeners. Sports Which puts more pressure on vocal variations, changes and has nothing to do with words.
In the discussion of the cultural form in the new country, it was easier to distinguish between folk music than classical traditions, which was more standard and was heard on a larger part of the earth with a wider audience.
Then the classical shapes became more harmonious on the face and many people in the new country felt uneasy about certain names, deities and mythical references to establish a separate identity from the Indian land. And after the creation of Bangladesh, the process of choosing about inheritance became easier. Classical forms had a lot of patronage in East Pakistan but with its loss it became easier and easier to read the culture more uniformly. It was easier or more convenient to plaster uniformity in the popularity and brand name of the people.
Pakistan People's Party, with more. General The approach facilitated this transition in the 1970s. Popular forms and film songs became the hallmarks of singers who were widely praised.
The Lok Warsa or Institute of Folk Heritage was formed and the Niazi family played a major role in its establishment and success. The folk show recorded, identified and marketed talent from across the country and strengthened the country's cultural image based on folk music. Only later قوالی Took over and became a popular form of vocal music that somehow broke the character of the shrine.
The sound in music is changing rapidly due to computer-generated sounds and software pre-empting the rules of composition. Not now, but very soon, artificial intelligence will point to the way music should be made. The Niazi brothers, Javed and Babar, should be congratulated for preferring and trusting them in the traditional way. Effect of the sur Instead of a medallion of sound with a pool overlay. It seems that قوالی It will retain its traditional form because of its religious references, which many insist it must be resistant to change. While this may not be entirely possible, at least some effort will be made to get the two married and it will not be hijacked by a technical attack that has made resistance as much as possible.
---
The author is one. Culture based on criticism In Lahore